Cost of Plantation Shutters vs Blinds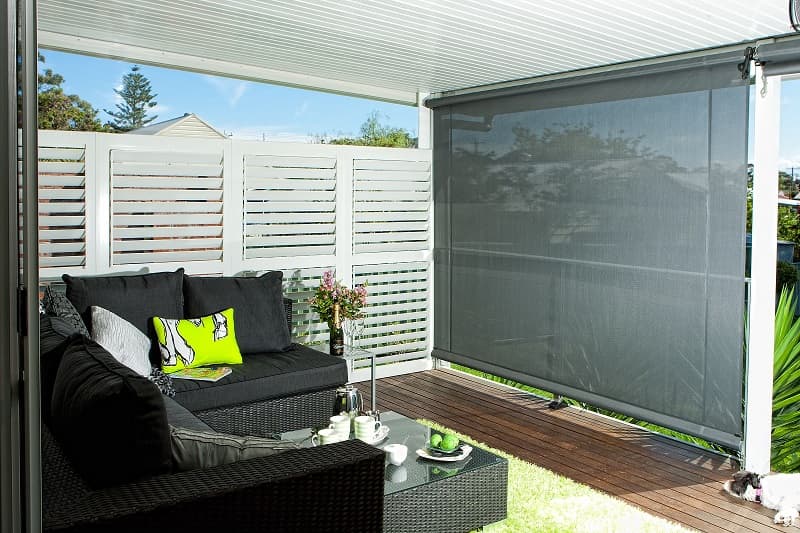 It's time to refresh your window coverings to bring more visual appeal and function to your home. Plantation shutters and blinds are popular options, adding charm and property value. 
Each comes with different price options. Plantation shutters have timeless appeal and durability. They are made from wood or composite materials. These shutters have a higher upfront cost than blinds. The advantages of shutters are excellent insulation, light control and privacy. They need to be measured and installed to fit your specific windows.
Blinds can be a more affordable window treatment option. They come in different materials like aluminium, vinyl, or fabric. Blinds come in a  range of styles and can be easily adjusted to control light and privacy levels. The cost of blinds changes with material quality, and size. Also, motorization adds extra to the cost.
The average cost of plantation shutters ranges from $1,300-$3,600 per window, while blinds can vary from $30 to $185 per window (any prices are indicative only). In saying that, Australian-made plantation shutters can last up to 25 years, while blinds usually last about 5 years. 
Your choice will depend on your budget, preferences and needs of your home. Plantation shutters and blinds can add to the beauty and function of your windows.
Plantation Shutters Vs Blinds
Definition and Differences


Plantation shutters are solid and stable window coverings with wide louvres. They are  usually made of wood or composite materials. You can fit shutters to various window shapes and sizes. They give excellent light control, privacy, and insulation.
Blinds consist of single pieces of material or horizontal or vertical slats. They are usually made from various materials such as wood, faux wood, aluminium, fabric or vinyl. They use cords or wands to control the amount of light and visibility.
Some key differences between plantation shutters and blinds include:
Louvres may be wider than blind slats 

Shutters are usually installed within the window opening, while blinds are attached to the upper part of the window.
Plantation Shutters:


Wood is traditional and durable.

Cedar is popular for timber shutters

. 

Composite is called faux wood and is MDF (medium density fibre boards) coated in vinyl or a PVC layer.

Aluminium

is the material of choice and highly recommended as it provides a longer lifespan, is more durable, and provides better thermal insulation.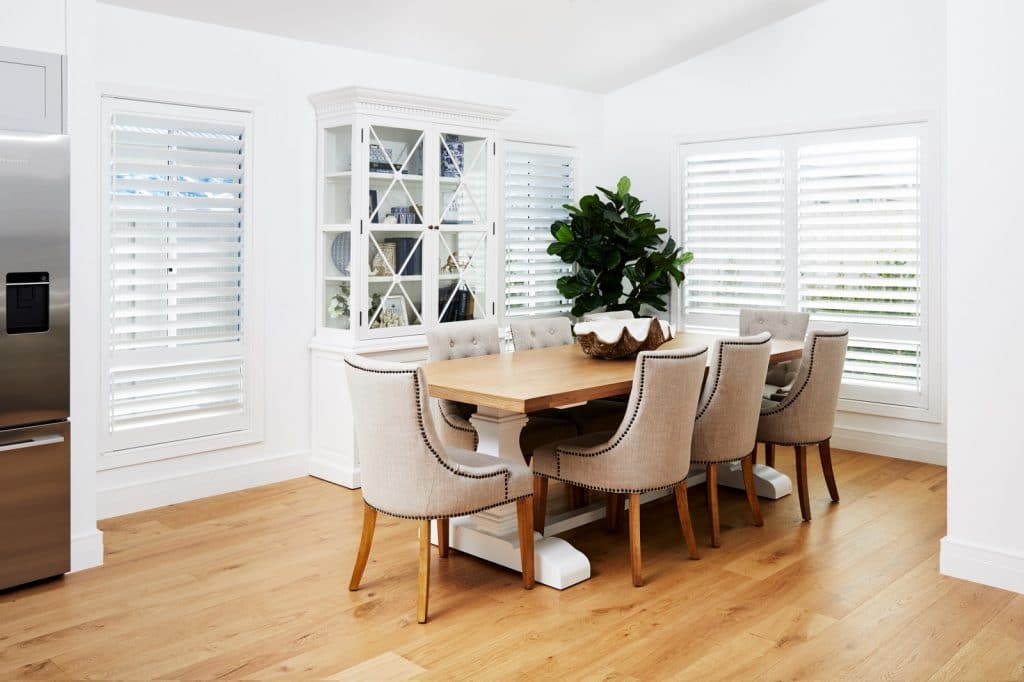 Blinds:
Wooden blinds offer a natural look. The cost varies based on the type of wood used, with prices ranging from $100 to $300 per window. 

Faux wood blinds mimic the look of real wood and are a lower cost, starting at $64 up to $86.

Aluminium gives a sleek, and modern look. They are lightweight and durable. These blinds start at around $42 and go up to $55 for a designer colour

Vinyl is an inexpensive choice and is low-maintenance, starting around $30 and they go up to $89.
How Much Do Blinds Cost is a good source of pricing levels for blinds (any prices are indicative only).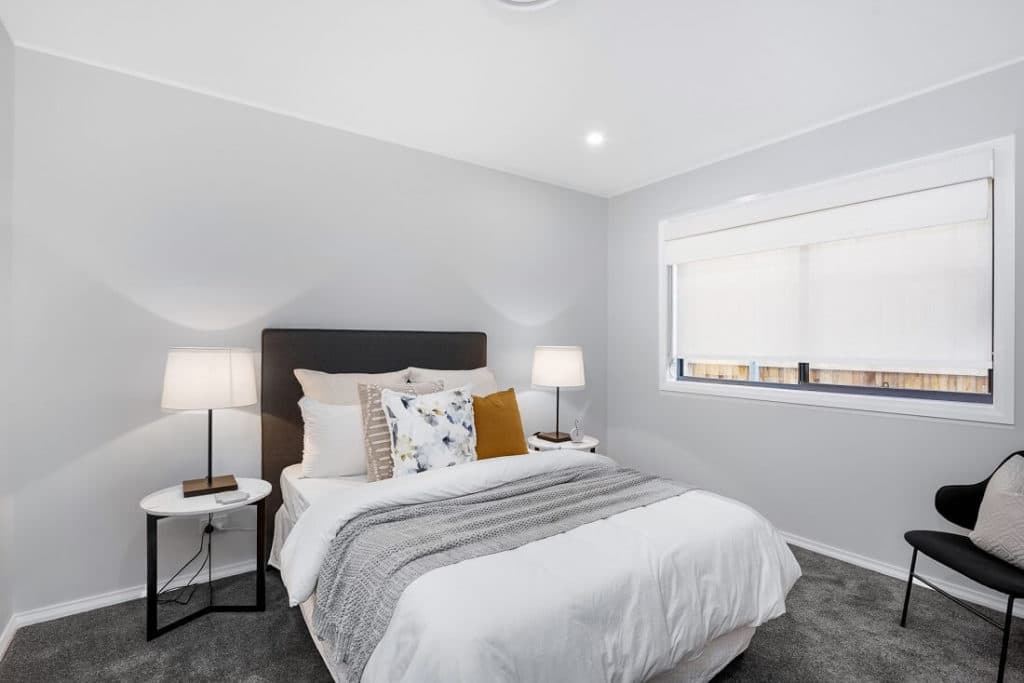 Window Covering
Plantation shutters and blinds come in various materials. The material used affects the cost and the visual appearance. 
Wood Shutters are strong and lightweight, and they can be refinished and revarnished if needed.

Composite Plantation Shutters are from manufactured wood and covered in vinyl or PVC layer. They are waterproof and easy to maintain.

PVC Shutters are a low budget option that are durable and resist some scratches.

Aluminium Shutters are strong and can span large areas with a single panel. They come in lots of different colours or have a wood grain appearance, depending on the material they're made from. Aluminium blinds are water resistant and easy to clean.

Blinds are manufactured in a range of materials and different styles. They are often a more low cost option for your home.

Fabric blinds are made from polyester, PVC or acrylic. They are available in a range of colours, and patterns. You can get varying degrees of insultaton and light control.

Wooden blinds can offer you the 'wow' factor. It's a popular material for venetian blinds. 

Faux wood blinds are made from a synthetic material like PVC, vinyl or foam wood.
What Blinds Should You Instal in Your Home and Plantation Shutters will help you decide which option.
Check out  28 Types of Window Blinds Explained: Clarify Your Options in 2023.  Read about roller blinds, roman blinds and vertical blinds to suit different rooms.
Size and Quantity


The cost of window treatments depends on the size of your windows.  A larger window frame or a greater number of windows will need more materials.
Installation 
Installing your window furnishings adds to the cost. The cost for blinds ranges from $400 to $1,100 for a house with eight windows. The lower price range is for artificial vinyl materials. The top end of the range would be for motorised hardwood. The cost of hiring trades persons is about $50 per hour. An installation project is usually completed in around 4 hours.
Plantation shutters cost on average $300 and $500 for a standard window. Installation costs for shutters can be at an hourly or fixed rate. It will range between $70 to $100 per hour for an hourly rate. Final installation cost could be between $2,200 and $3,600.
Create a Living Space Outside
If you have a real penchant for the outdoors, create an amazing space with a classy look with the help of plantation shutters. Such extensions provide ample room size to accommodate a deck, patio, or porch, letting you control the outdoor experience. They can be installed across or atop an open space – even openings between two walls.
Pros and Cons of Plantation Shutters vs Blinds
Plantation Shutters


Plantation shutters can add value to a home as they are more robust and last longer.  The benefits include:
 Long-lasting with a lifespan of up to 25 years or more

Suitable for a wide range of window shapes and sizes

 Improved insulation and light blockage compared to blinds
The drawbacks include :
Higher initial cost compared to blinds

May not be suitable for all types of windows due to space requirements
Blinds


Blinds have a lower initial cost and offer a range of light control and privacy. Some benefits of blinds include:
Lower initial cost compared to shutters

Greater variety of styles and materials available
The drawback of blinds include:
Shorter lifespan,  lasting only 4-5 year

Tend to gather dust and need more cleaning

May yellow, crack, or peel when exposed to direct sunlight over time
Maintenance and Durability


Maintenance and durability of your proposed window treatment is important. This impacts on the long term value and satisfaction you will experience.
Maintenance


Plantation shutters are low-maintenance, needing some dusting and wiping with a damp cloth. They are solidly built and do not have cords or chains, which means they are less likely to get damaged during cleaning.
Horizontal slats can attract dust and be tricky to clean. You may need to use a brush attachment on your vacuum.
Durability


Plantation shutters are more durable than blinds. The difference in lifespan comes from the different materials used in the construction of each.
Each material used in plantation shutters affects durability:
Real hardwood and aluminium materials are very durable and can last 25 years or more

Faux wood shutters offer medium durability, as the lifespan varies depending on the quality of material and construction

Vinyl or PVC offers a lower durability. It is more susceptible to warping or discolouration over time
Blinds, too, can be made from different materials, but in general, they tend to be less durable. This is because of their slatted design and the use of cords or chains for operation. The usual lifespan is about 4 years.
Plantation shutters can be a more cost effective choice in the long run for homeowners.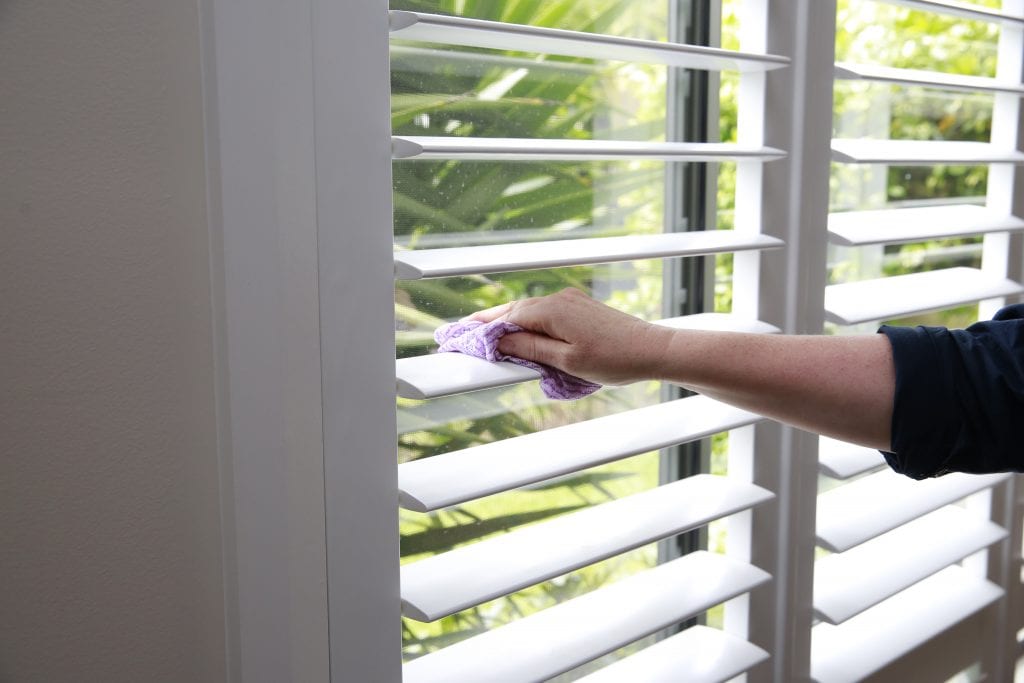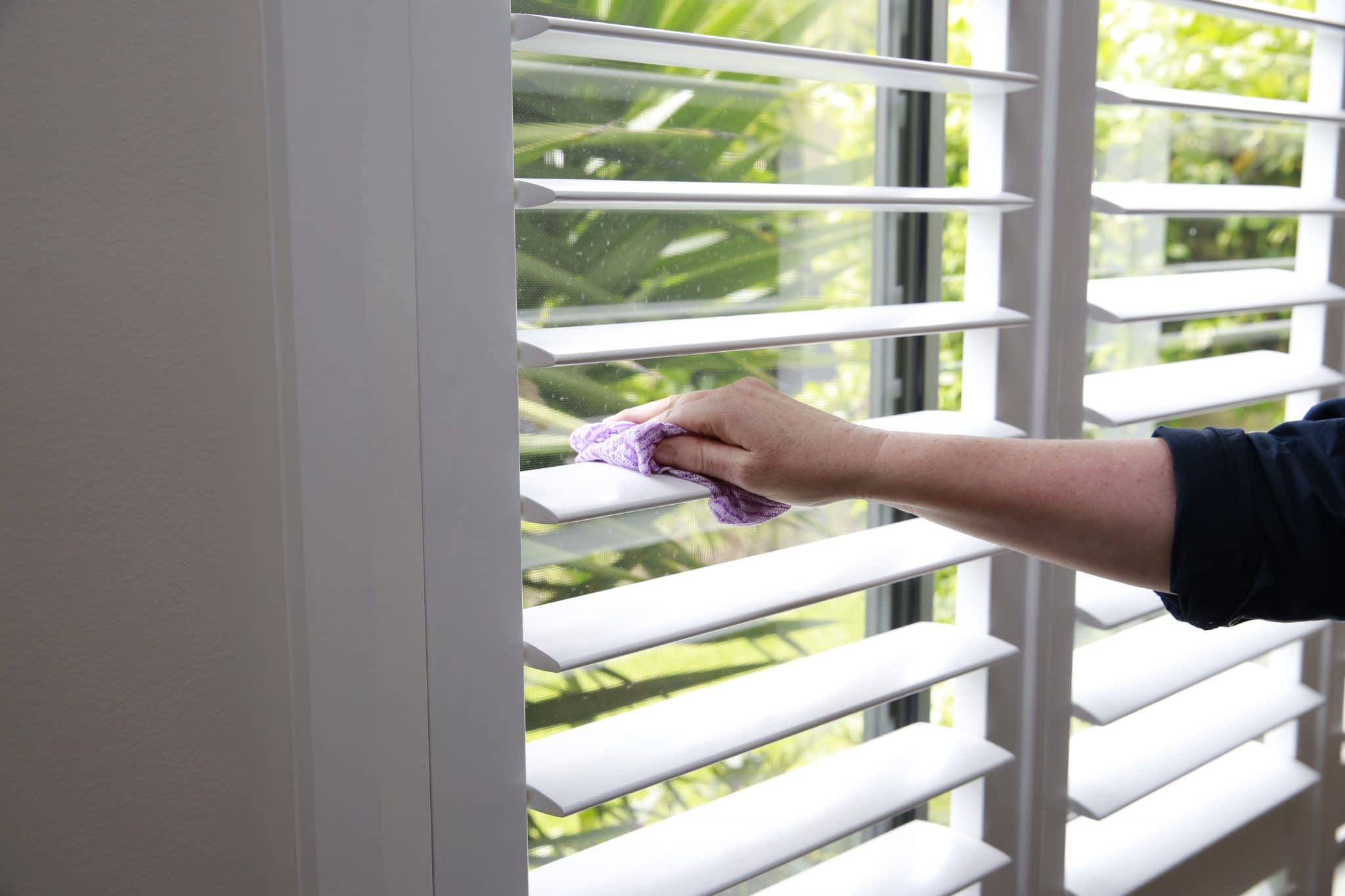 Energy Efficiency and Insulation
Plantation shutters and blinds differ in insulation and maintenance of room temperature. Plantation shutters are more energy efficient than blinds. Shutters are a better option to insulate windows due to the way they are constructed. In colder months you will experience reduced heat loss. In summer months shutters reduce unwanted solar heat.
Blinds consist of individual slats. This creates spaces for heat to escape or enter a room. There are some blinds that give greater energy efficiency than standard blinds.
For energy efficiency, plantation shutters may be the more favourable option compared to blinds. Their durability and energy efficiency can make them a more cost effective option over time.
Return on Investment


When you are thinking about whether to go with plantation shutters or blinds, think about the long term investment or return on investment (ROI). Plantations shutters may be more expensive but have more benefits in the long term.
One of the main factors for thinking about return on investment is how long your window furnishing will last. Remember plantation shutters can last for 25 years. Blinds may need replacement in 4-5 years. 
When you are thinking about ROI consider the impact on the home's resale value. Homeowners often view plantation shutters as a high-end product. Blinds may not add as much value to the property due to their relatively short lifespan and lower initial cost.
Installing plantation shutters can mean a saving on heating and cooling costs. This energy saving can add up over time, contributing to the ROI of plantation shutters.
Plantation shutters may have a higher initial cost compared to blinds. When you think about how long they last, their visual appeal, and energy efficiency they do contribute to a better return on investment.
Making the Right Choice


Always consider the advantages and drawbacks of both plantation shutters and blinds when you are making your decision. Window blinds are less expensive than plantation shutters, however, plantation shutters have a longer life, are more durable and more energy efficient.  
Think about the space and window style. Shutters need more window space and may be heavier than blinds. Some window designs are unsuitable for shutters. 
Both shutters and blinds will need some maintenance over time, otherwise they may discolour or crack. They may also warp in humid conditions. 
Blinds are more affordable depending on the material, style and size you choose. Plantation shutters are more expensive than blinds, but they are energy efficient and can lead to long term budget savings. Also, because they last longer, they will require replacing or repairing less than blinds.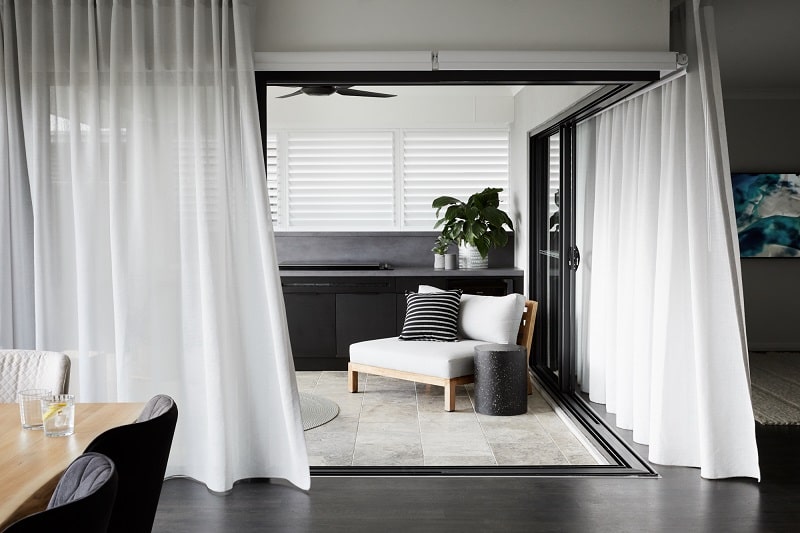 Need Help Deciding Between Blinds & Plantation Shutters? Contact Classic Blinds and Shutters!
Your decision on window furnishing is really about your personal preference and unique needs. Plantation shutters offer elegance, durability, and excellent light control, while blinds provide a wide range of styles, materials, and price points. Both provide flexibility and customization options. Consider the aesthetic, maintenance and budget to make an informed decision.
If you need help making the decision and want to learn more about the various options and prices for blinds and shutters, contact Classic Blinds today!
More Classic Posts & Updates
We rely on curtains every day to make our lives more comfortable, but how do you choose curtains for your home? When choosing curtains for …
Do you want your window coverings to stay looking fresh and clean? Or are you looking for an easier way to clean plantation shutters? As …