Comfort, function and style
Newcastle PVC Plantation Shutters
Create a stylish ambience inside your home with our PVC plantation shutters. Enjoy beautiful filtered light or open them up to catch the sun, however the mood takes you. Secure, hard-wearing and stylish, you'll be amazed at how versatile PVC Shutters can be.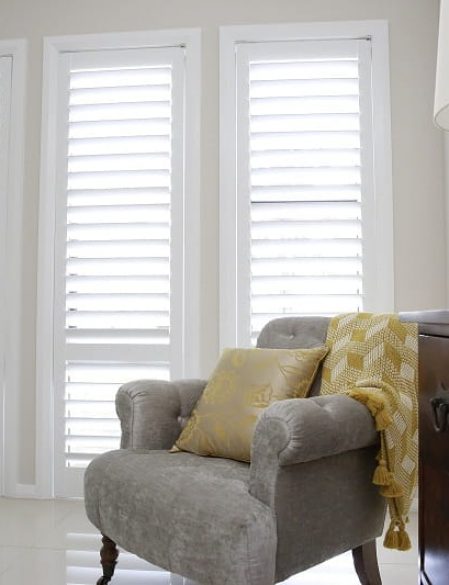 PVC Shutters Perfect for every Newcastle home
Plantation Shutters were traditionally made from timber, in the last 10 years or so other materials have been used. Often called poly, thermo-poly or just PVC these shutters are an amalgamation of stabilised plastics that deliver a potentially lower cost option. Since plastic is a very dense material, a skeleton of aluminium is used to support the structure and to avoid sagging through the blades.
At Classic Blinds and Shutters, we provide the highest quality plantation shutters to suit a range of internal and external spaces. Servicing areas across the Newcastle, Maitland, Lake Macquarie, Port Stephens and the Hunter Valley regions, our friendly sales representatives will be able to visit your home and offer quality solutions for your space.
Most frequent questions and answers on PVC Plantation Shutters
What material is used to make PVC Plantation Shutters?
These plantation shutters are often called poly resin, thermopoly, PVC and polysatin and are made up of a composite of synthetic materials such as plastics and PVC. A single panel can be pretty heavy and this density restricts the width of the blades so you can end up with more panels in the window than is ideal. To overcome this issue the better quality synthetic panels have a aluminium core or skeleton running through the blades and the frame of the panels.
Where are PVC Plantation Shutters made?
Nearly all synthetic plantation shutters are imported from Asia
Which rooms can I use PVC Plantation Shutters in?
Great for wet areas such as kitchens and bathrooms. Some synthetic plantation shutters emit VOCs (volatile organic compounds) at room temperatures so not recommended for bedrooms.
How do I maintain my PVC Plantation Shutters?
Plantation shutters are very easy to dust, use a damp microfibre cloth to wipe over the blades. Keep the windows shut during wet weather.