Security Plantation Shutters
Safety and security for your home
Feel Secure in Your Newcastle Home with Security Plantation Shutters
At Classic Blinds and Shutters, we provide the highest quality locking plantation shutters to suit a range of internal and external spaces. Aluminium plantation shutters are truly multi-functional. They offer a sleek appearance PLUS fantastic thermal qualities to insulate your home from the fierce Australian sun. Now you can also create your stylish security windows when you add our 3 point locking system, made from high-grade steel, and sleep easy knowing that your family is safe. Locking plantation shutters are made to the highest-quality Australian standard and much more attractive than security screens, grilles or bars and just as effective.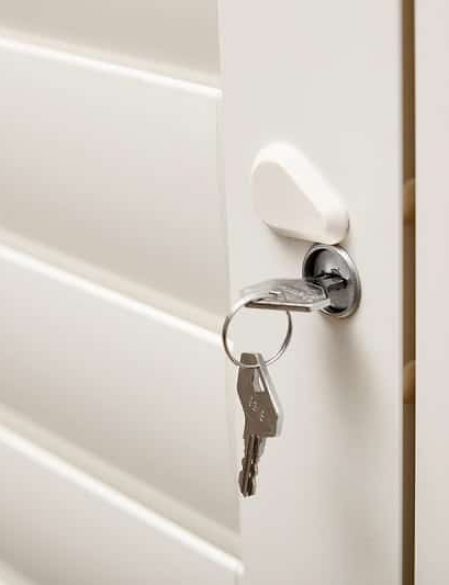 Security Plantation Shutters Newcastle
Feel secure in your Newcastle home with our secruity plantation shutters, that have undergone testing – AS 5041-2003 Section 5 – by an accredited testing lab.
Our locking plantation shutters are of the highest-quality and are resistant to corrosion and mildew. We can supply key alike locks across the whole house for convenience. Add an insect screen and you have the complete solution. Choose to add our double lock system and you will have extra peace of mind regarding security. 
Aluminium plantation shutters are the ideal solution for your property. Plantation shutters offer the best of both worlds, with a smooth refined finish to the look of your home and the locking mechanism is just as effective as other security solutions. 
Sleep easy and be worry-free. The Classic Blinds & Shutters superior powder coat finish means they are not susceptible to water damage or mildew. They are great for families with young children and pets and a durable option for rental properties. Suitable for internal and external, locking plantation shutters can be made custom made to suit your needs.
Lockable Plantation Shutters
At Classic Blinds & Shutters, we provide the highest-quality locking plantation shutters to suit a range of internal and external spaces.
Our friendly sales representatives will be able to visit your home and offer quality window and security solutions to suit your property and the needs of your family. Our Locking Aluminium Shutters are manufactured using the highest-grade aluminium available, with a triple locking mechanism, and we pride ourselves on producing quality, durable window coverings to keep families safe.
We provide a professional service from enquiry to quote to installation across Newcastle, Maitland, Lake Macquarie, Port Stephens and the Hunter Valley regions.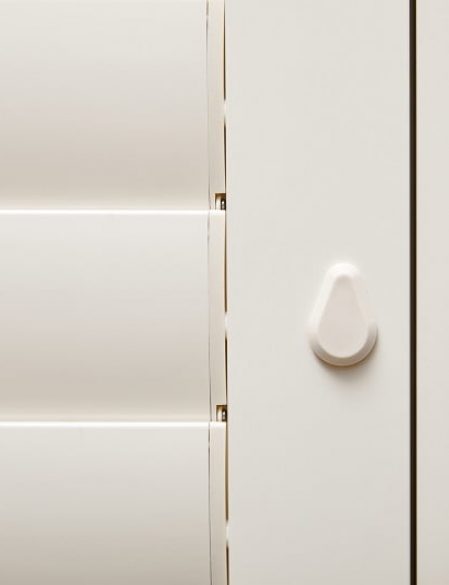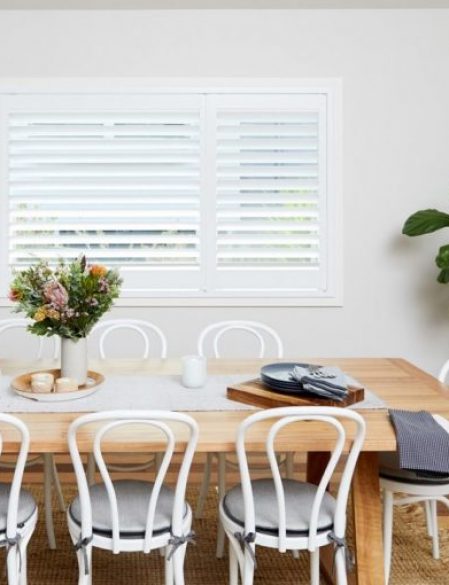 Australian Made Security Shutters
Our Locking Aluminium Plantation Shutters are made to order and come in a range of standard colours to suit any home. Designed for Australian conditions, our shutters won't sag, warp or corrode over time. In fact, our Aluminium Plantation Shutters are the only shutter on the market with a lifetime warranty.
Certified Australian Made, We are proud to be the leading manufacturer of the best Aluminium Plantation Shutters in Australia. Shutters made by Australians for Australian conditions.

Most frequent questions and answers on security plantation shutters
How does the lock work on locking plantation shutters?
The key is placed in the center of the panel frame, where you can lock and unlock the shutter. Inside are long steel operating rods made from 306 stainless steel that run up to lock into the top and bottom of the window architrave.
Do the locking plantation shutters have a security rating?
We have had this product tested to AS 5041-2003 Section 5 by an accredited testing lab. This Standard sets out methods of test for the performance of hinged and sliding security screen doors and security window grilles used primarily in residential situations.
Can you have a key alike for locking plantation shutters?
Yes – just one key will lock or unlock all your plantation shutter panels.
Why would you lock the panels on plantation shutters?
Plantation Shutters are one of the few window coverings that you can leave your windows open at night and not hear a rattle, for peace of mind add a lock to the shutter panel. It is less expensive than adding security mesh to the window and looks better.