Folding Arm Awnings Newcastle
Extend your outdoor living
Folding Arm Awnings Newcastle
Extend your outdoor living and entertaining areas with a Folding Arm Awnings. We source most of our options from Australian manufacturer, Helioscreen, whose awnings have been cleverly designed to withstand the toughest of treatments whilst reducing the sun's penetration and absorbing the heat. We offer a number of options that are fully cassette for maximum fabric protection and a few open options where the awning can be installed under an eave.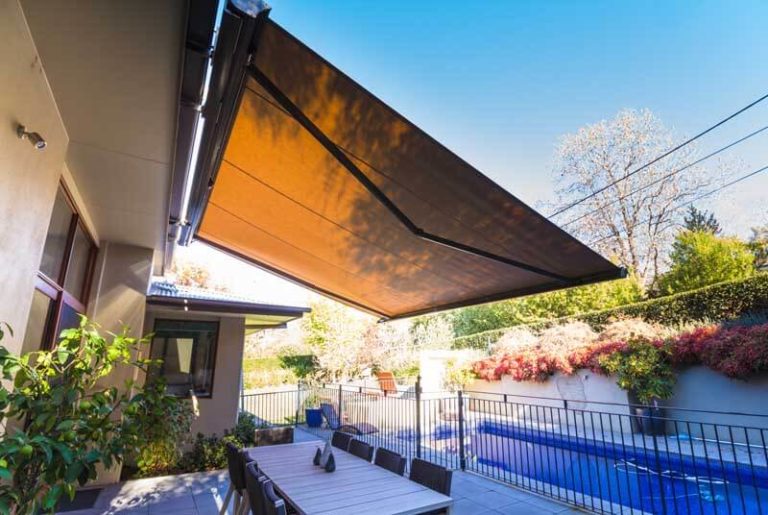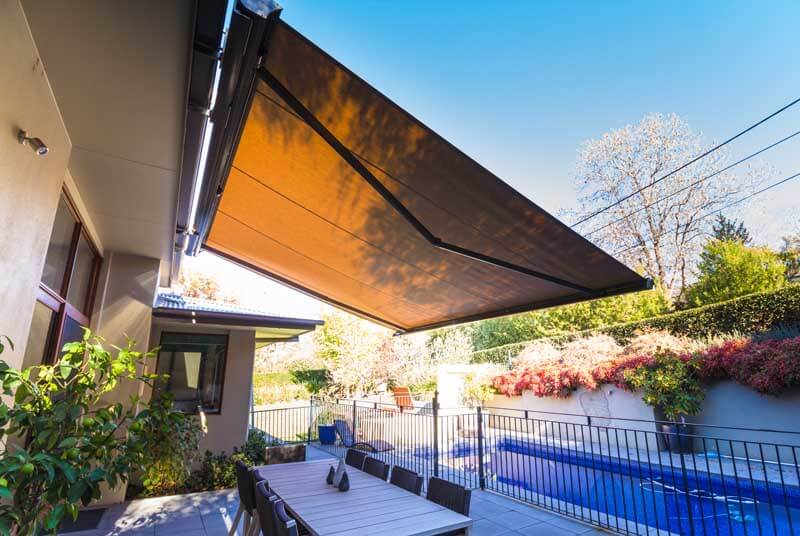 Extend your outdoor living and entertaining areas with Motorised Folding Arm Awnings
Folding arm awnings extend outdoor living and entertaining areas by providing all year round protection from the elements and are designed to withstand harsh Australian sun and tough weather conditions. Helioscreen folding arm awnings reduce the sun's rays and also absorb the heat to protect you and your family. 
Available in an extensive range of fabric colours and patterns with UV resistant materials to blend into any house or building. Each folding arm awning awning has a premium range of Dulux finish colours to choose from and is custom made to your requirements.
Automated Folding Arm Awnings
Helioscreen folding arm awnings feature high quality aluminium, robust die cast parts, and four tear resistant steel cables within the articulated arms – for ideal functioning and longer lasting trouble free operation. 
For added convenience, awnings can be motorised using a Somfy remote control. Awnings come in over 50 fabric colours and patterns and are made from long lasting water and UV resistant materials – designed to compliment any external façade and installation.
Most frequent questions and answers on folding arm awnings
Can you use a folding arm awning in wet weather?
A folding arm awning has been designed as for shading from the sun, it will give superficial protection from the rain but to lengthen the life of the fabric it is best to put it away during wet weather. The water can pool on the fabric, stretch and make it difficult to roll back up.
How do folding arm awnings perform in windy conditions?
Some good quality folding arm awnings have a wind rating of Beaufort 5 or 6 (fresh and strong winds) By the nature of the product, cantilevered off a building the unit should be put away until the wind dies down.
Under no circumstances should the awning be left out unattended.
Do folding arm awnings have to be automated?
Some models of folding arm awnings can be crank operated. We generally recommend that folding arm awnings are automated and motorised as they will be more fully used and more importantly put away when required.
What colours should we have for a folding arm awning?
Folding arm awnings can be made in almost any coloured suitable fabric including stipes, but it will have to be an solid acrylic suitable for use outdoors. A light colour will help to reflect heat and allow for filtered light underneath, a dark fabric will absorb heat and light. The hardware can be powder coated to any colour from the Dulux powder coat range there are a couple of standard colours, silver and white.
How do I care for my folding arm awning?
Put your folding arm awning away when not in use. Do not use in weather that is unpleasant to sit in yourself, and give it a hose down with clean water a couple of times a year to wash off any dirt or salt residue.
Do I need Council approval for a folding arm awning?
Generally not, however it is advised to contact your local council to confirm requirements in your area.
Every new awning installation is treated independently of one another. Meaning there is no "one size fits all" approach to the regulations behind this. 
Some basic rules to follow are:
Cannot exceed 10m2 in size.
Cannot project beyond 2m of an external wall.
Must NOT be used for advertising.
Must NOT be placed on bush fire prone land.
See the NSW Government Environmental Planning Policy Page for more specific standards to comply with, for installation of a Folding Arm Awning.