Automatic Awnings Newcastle
Made for the Australian Lifestyle
Outdoor Awnings Newcastle
Balancing between style and practicality, automatic awnings are hand-operated and fit closely to the window frame. Operation is easy with self-locking arms that slide along vertical rails either side of the window.
At Classic Blinds and Shutters, our wide variety automatic awnings are an affordable way to protect a home from the sun, increase your privacy and control the amount of light entering the home.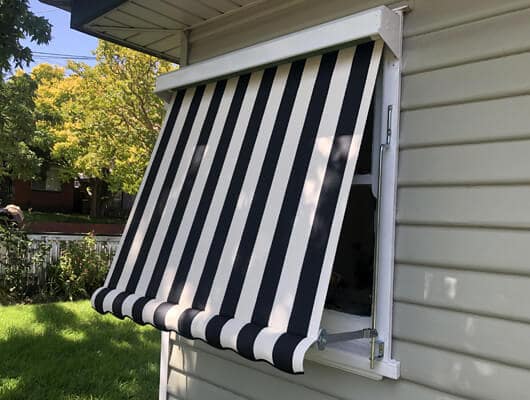 Automatic Awnings Newcastle
Automatic awnings are sometimes called traditional awnings. These are  spring loaded window awnings, and have been around for as long as the sun has been shining on our homes. Think of the striped canvas awnings on our grandparent's homes.  They are very effective and give excellent heat reduction in an affordable and uncomplicated form that is time tested.
Available in solid or mesh fabrics for a modern look we will have a fabric that suits home and style. Hoods and cassettes that prolong fabric life are available in a large range of Colorbond colours.
With fantastic heat-repelling qualities, automatic awnings have been recorded to cool your home by up to 15°C. Automatic awnings keep the sun directly off your window, but allow for airflow to circulate behind the blind. This keeps your home much cooler, saving on air conditioning costs.
Classic Blinds & Shutters provide the highest quality automatic awnings to suit your home.  Servicing Newcastle, Maitland, Lake Macquarie and Port Stephens, our friendly sales representatives will be able to visit your home and offer quality solutions for your space. Book your in-home consultation today for a free measure and quote.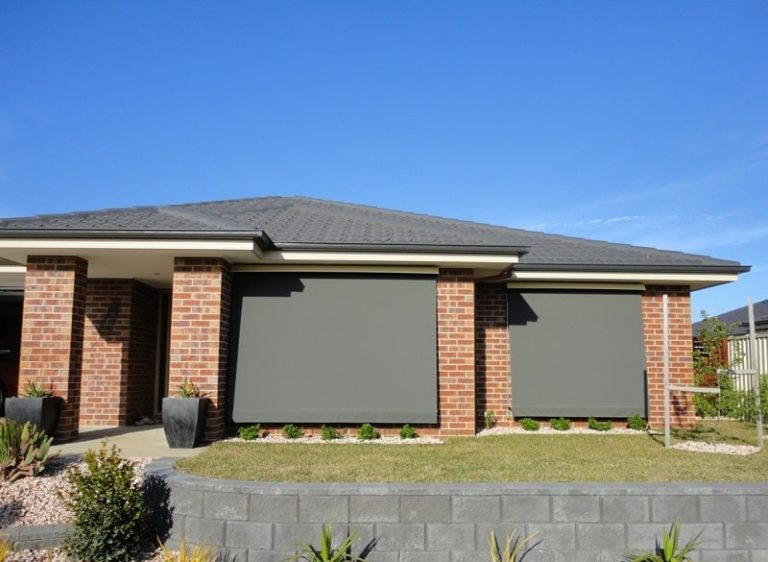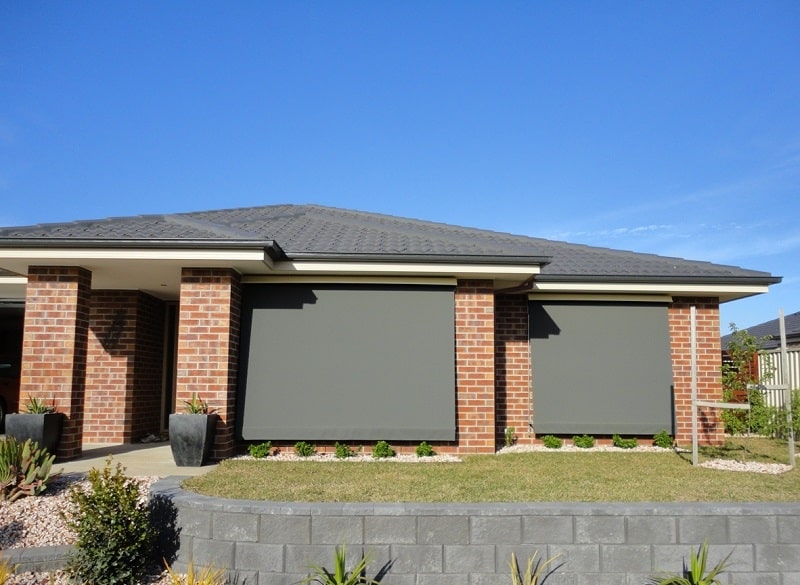 Most frequent questions and answers on automatic awnings
How do automatic awnings operate?
These automatic awnings are spring loaded and are held in place by side arms that are attached to the wall. They are called automatic as they are designed to put themselves away when it becomes windy, this is not fail safe so we recommend for long lasting use of this product they are manually put away if a storm is brewing. Also they are hard to operate if the window is narrow as there is too much tension on the spring, we would advise looking at an alternative product.
How do I care for my automatic awnings?
Hose down with clean water a couple of times a year to wash off any dirt or salt residue in particular.
What fabric should I use for automatic awnings?
The world has moved away from canvas to either acrylic or sunscreen mesh fabrics. Acrylic is a solid fabric that totally blocks the sun, whilst the mesh blocks 95% of the UV rays but allows the residents to see out. Mesh fabric for automatic awnings is by far the most popular choice.
Where are automatic awnings made?
We source our automatic awnings from Bartlett Blinds in Ballarat. A well established Victorian family company who have been making reliable, good quality external blinds for many years.
Do automatic awnings stop the rain coming in?
If a mesh fabric is used to make these automatic awnings, the rain is very much slowed down but they are not 100% waterproof, particularly if the rain is horizontal.
If a solid acrylic fabric is used there is less chance of the rain coming in through the fabric but bear in mind the rain can come around the sides. The blind will help but it is not a water proofing solution.
What is the warranty on automatic awnings?
There is a 5 year manufacturers' warranty on automatic awnings we source from Bartlett Blinds.