Add Elegance and Style To Your Home With Curtains
Transforming atmosphere and ambience, curtains can add an extra dimension to any space. The right curtain can add elegance and style to your home. Turning drab or dated rooms into luxurious and modern showpieces. Available in a huge variety of styles, fabrics, colours, and designs, there are curtains available to suit any interior.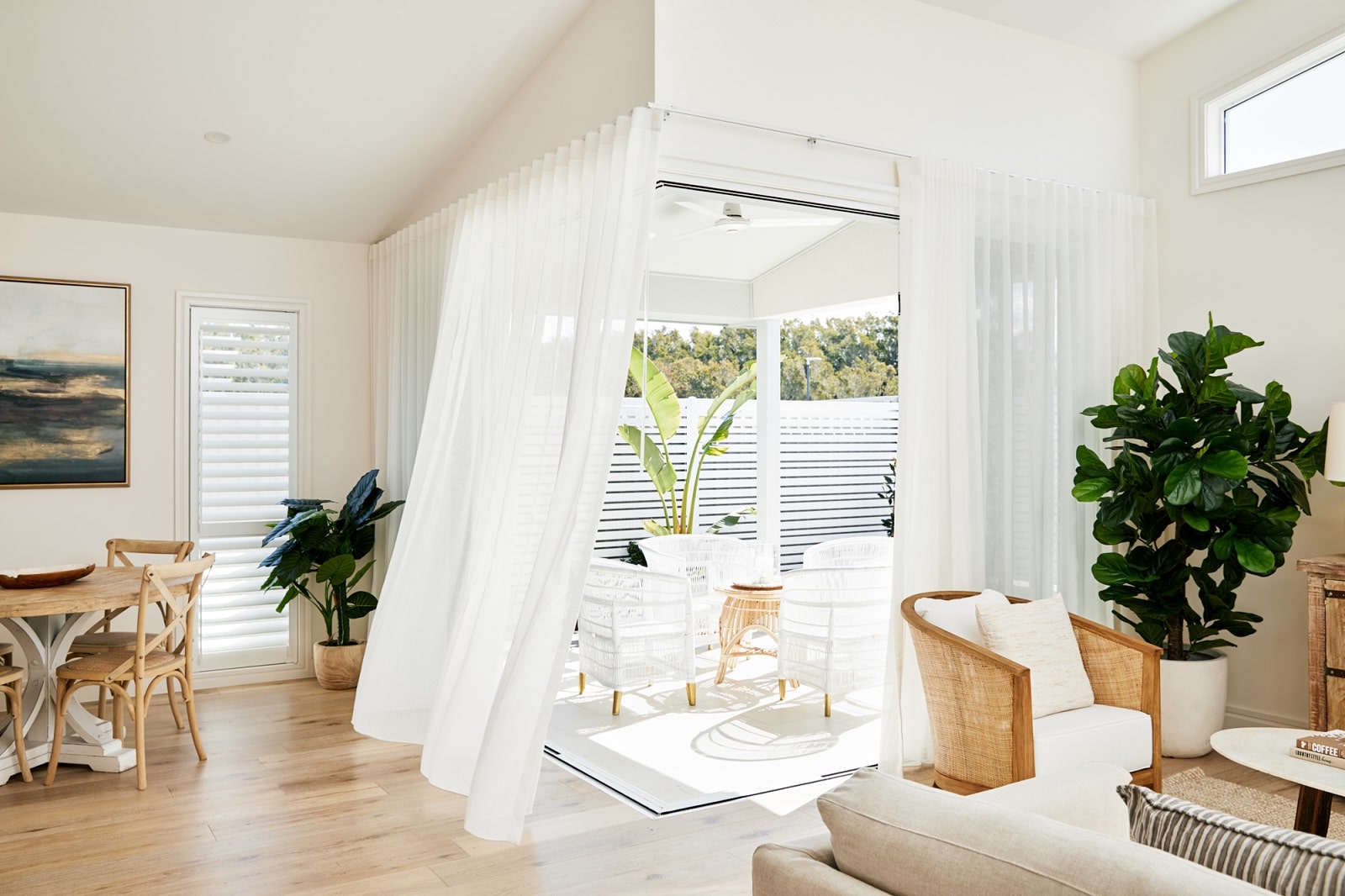 Cu

rtains Newcastle
Choosing curtains for your window coverings creates a feeling of luxury within your home. They are a wonderful way to put your personal touch and creative style into your space. Whilst also helping to insulate, control light and maintain the temperature inside.

Classic Blinds & Shutters offer one of the largest ranges of curtain fabrics in Newcastle. We only source the highest quality fabrics and fittings. Ensuring your curtains provide a long-lasting and refined solution to your window coverings needs. Our suppliers include Warwick Fabrics, Mokum Textiles, Charles Parsons Interiors, Ashley Wilde, Wortley and many more.

Curtain Fabric

We offer a large selection of curtain fabrics providing endless possibilities to create your dream look. Our experienced curtain consultants are able to give you the best advice and guidance on what is the best look for your room.
There are 3 main styles of curtain fabric – Block out, Sheer and Light-Filtering /Translucent. Each curtain style provides a different feel and ambiance to your room.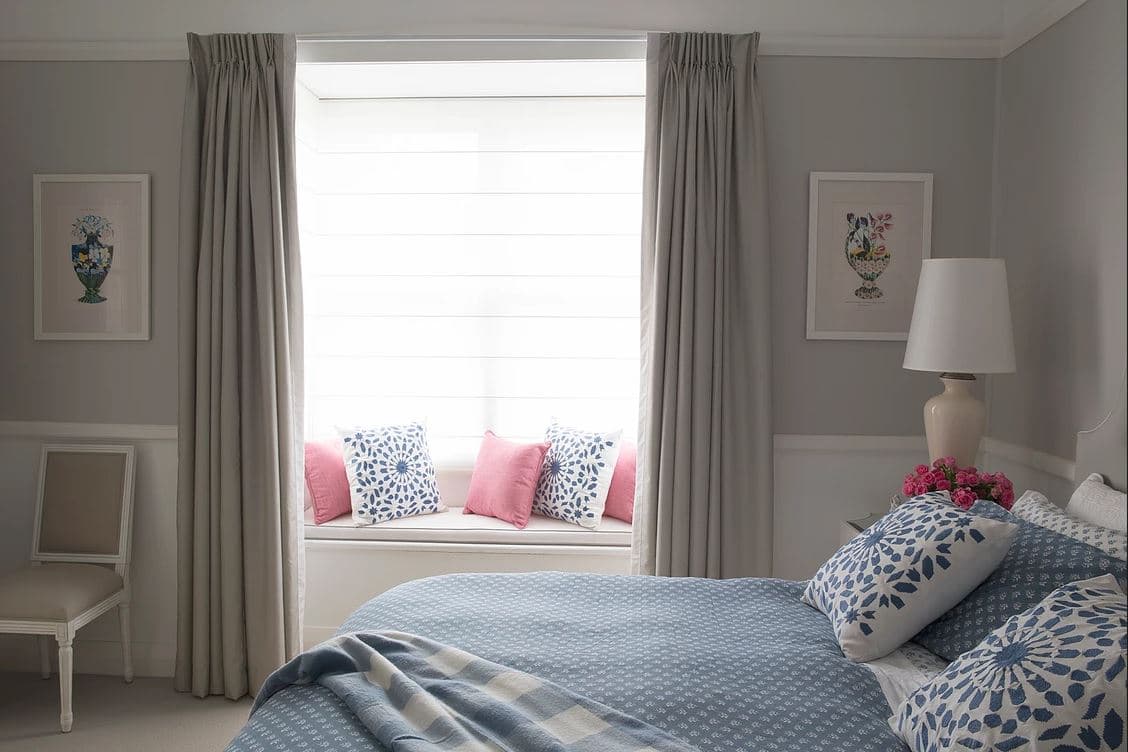 Blockout Fabric
Block-out curtain fabric is designed to block out the light and heat from the room. This choice of curtain fabric is perfect if you wish to maintain maximum darkness in the room. Block-out curtains are able to be installed on various curtain tracks, allowing you to find the perfect style for your room.
We have a beautiful range of plain or patterned fabrics suitable for blockout curtains. All are sourced from Australia's leading design houses.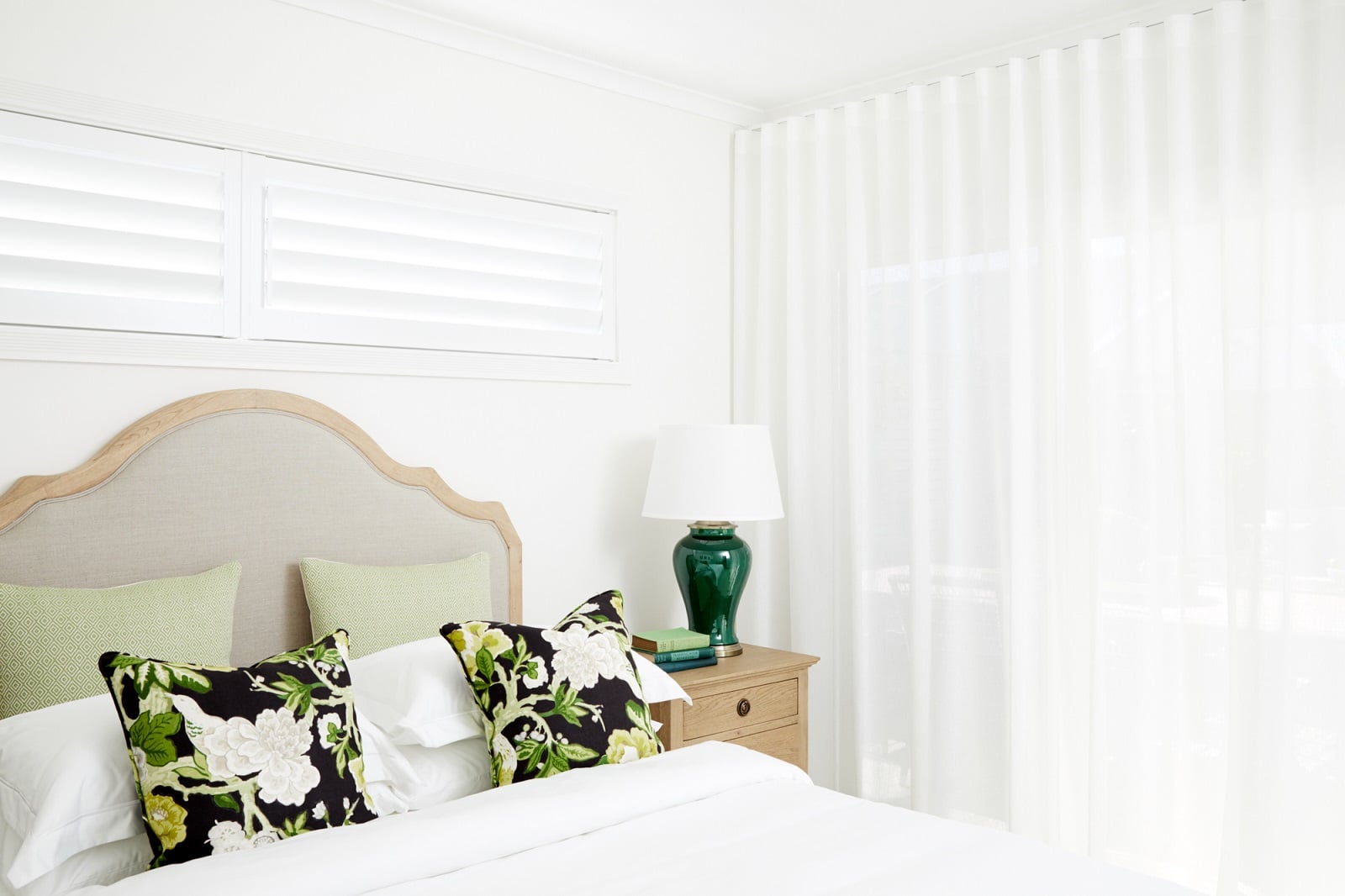 Sheer Fabric

Sheer curtains are one of the most popular curtain products at Classic Blinds & Shutters. Choosing a sheer fabric is the perfect way to create a stylish and softer look in your room.
Both elegant and functional, sheer curtain fabrics soften most rooms providing a sense of privacy. You can complement new or existing block out curtains with beautiful sheer fabric curtains from Classic Blinds.
Curtain Headers
The curtain style is an important aspect to consider as it defines the look and character of your curtains. The choice of header also determines how the curtain fabric falls and stacks when the curtains are pulled aside.
Modern curtain styles like the Wave Fold offer a softer fall in the fabric. A more traditional curtain header such as a pinch pleat allows for a more structured and decorative curtain presentation.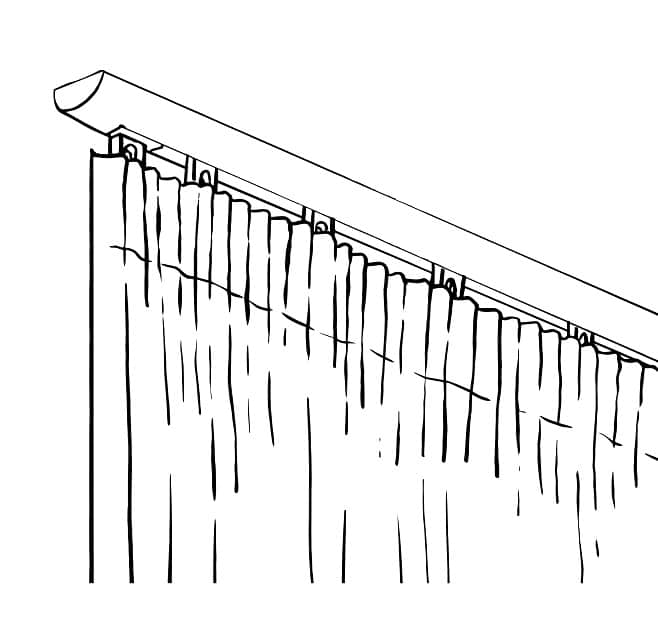 Pencil Pleat Curtains
Pencil pleat curtains are a more traditional style of curtain. The heading of pencil pleat curtains is non-structured, offering a less formal look. Versatile enough to fit any room, pencil pleat curtains are the most cost-effective style of curtain. Highly adjustable, pencil pleat curtains can bring extra depth and texture to any room.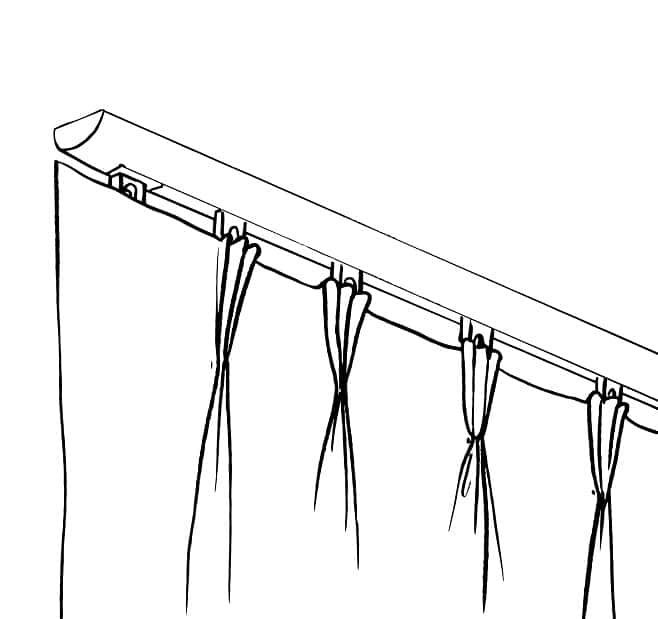 Pinch Pleat Curtains
Pinch pleat curtains offer a classic and more formal look. These structured, sewn-in pleats provide a tailored look suitable for any interior and can be done as both double and triple pinch. Give any room a touch of classic elegance with this traditional curtain styling. Pinch pleat curtains suit any type of track and pole, making them one of our most versatile and enduring styles.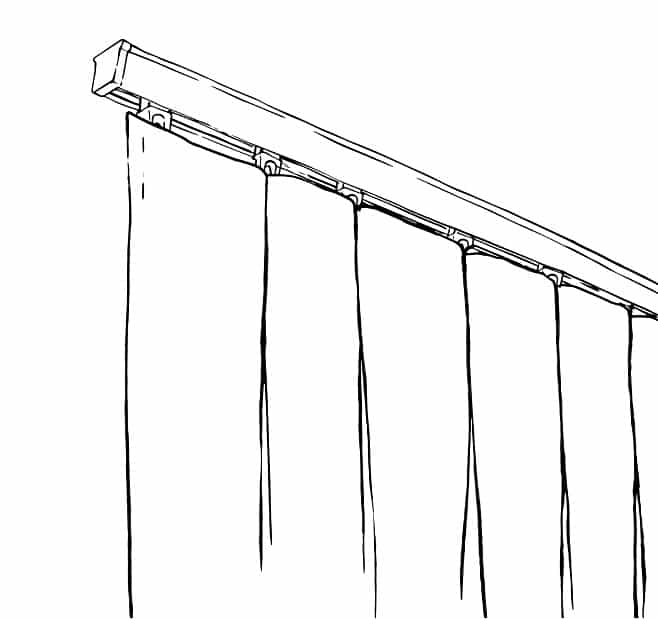 Inverted Pleat Curtains
With a clean modern look, inverted pleat curtains are designed to form even, box-shaped pleats. With a luxurious quality, inverted pleat curtains are a popular curtain style, suitable for any modern room. This curtain style does not stack back as comprehensively as other styles.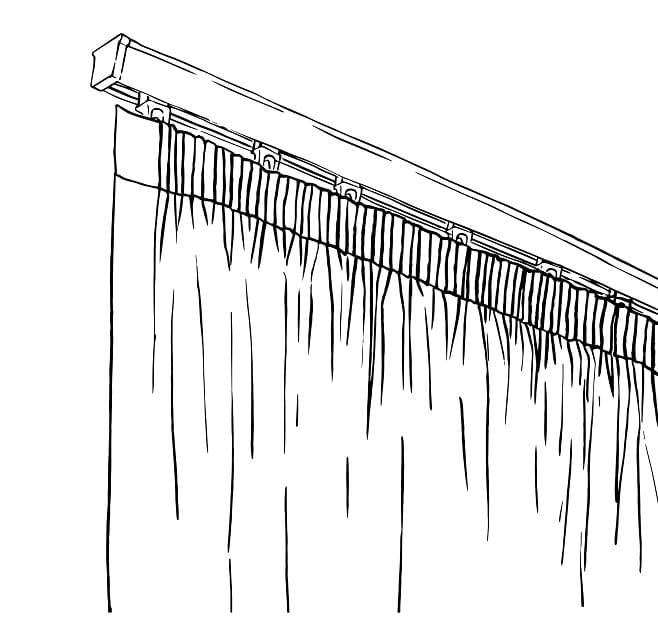 Knife Pleat Curtains
The knife pleat style is a neat and simple curtain heading perfect for both lined and sheer fabrics. A continues flat pleat forms an even gather across the curtain track. Knife pleat curtains are the perfect style for sheer curtains that sit behind blackout curtains, as the pleats lay flat. This curtain style is also a stylish choice when you are looking for a streamlined curtain to suit modern interiors.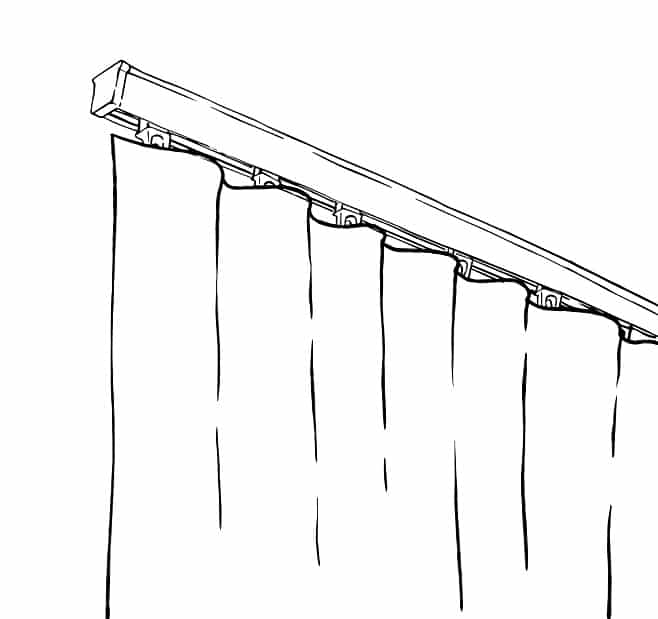 Wave Fold Curtains
Wave fold or S-Fold curtains are one of our most popular and contemporary styles. A simple yet elegant heading, this style is suitable for a large range of fabrics. It can be used for hand-drawn, cord drawn or motorized operation
To create a consistent and continues 'S' wave effect, spaced carriers and stiffened tape are sewn onto the curtain fabric. The folds of this heading are always perfectly positioned and spaced. The result is a soft and sophisticated look, with a low profile track that glides seamlessly.
Curtain Automation

Put the power of automation at your fingers. With a simple touch of a button, open or close all the curtains in your home. The sleek design of automated curtains provides that extra comfort and convenience to your home.

If you are a homeowner, builder, or architect looking to automate the home you are building, then motorised curtains are a great option for you. Our high-end motorised curtains guarantee reliability, comfort, and durability. It's a great investment not only because of its quality but also because it adds value to your living space.

Motorised curtains utilise an electric motor, providing ease of use to open and close your curtains via remote control. Benefits of Motorised Curtains:

– Silent motor
– Gentle and smooth operation
– Memorises your favourite curtain position.
– Can be used with Somfy Home Automation systems.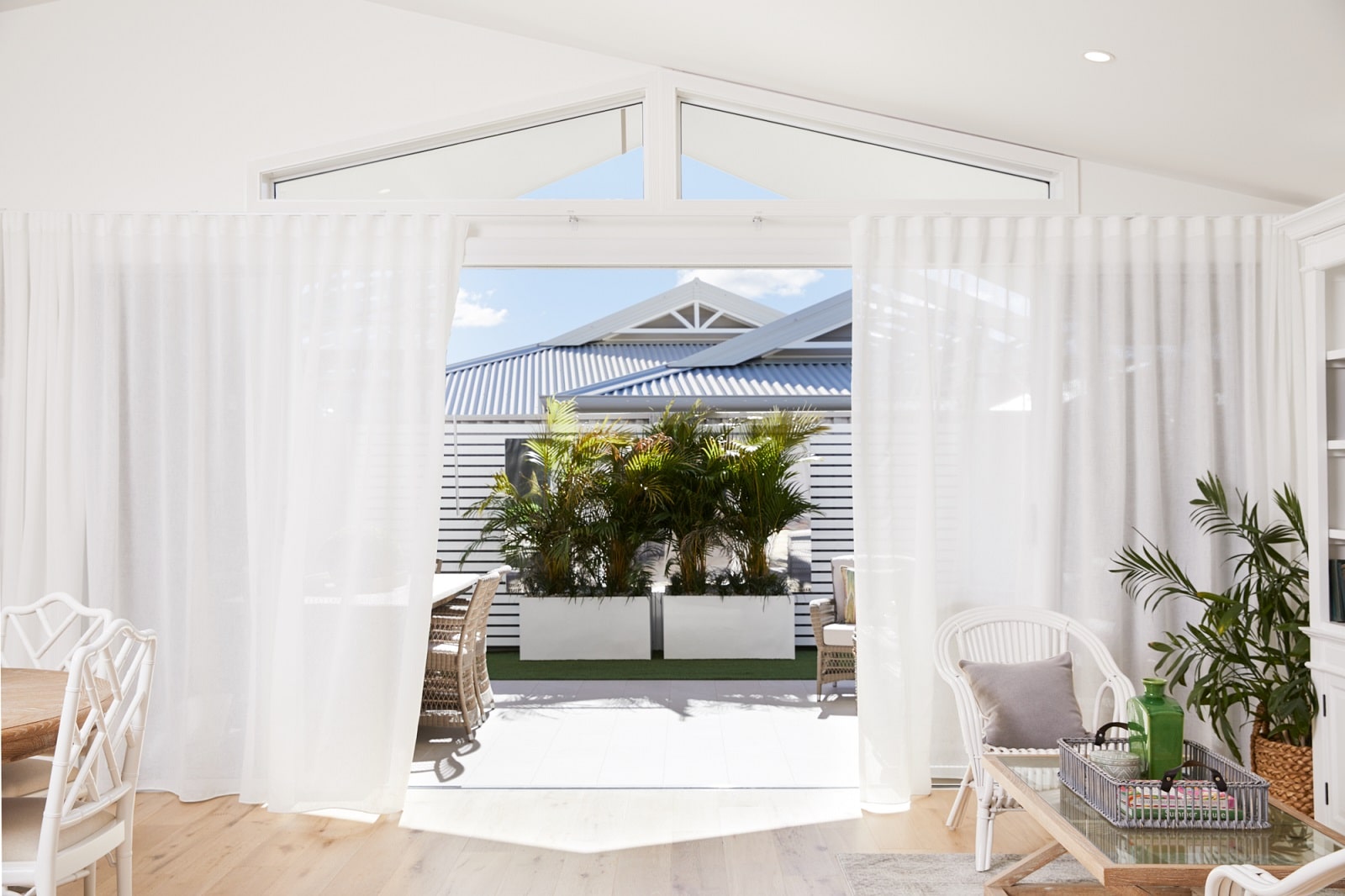 Was very impressed with the outcome..
Just installed shutters and curtains for a new build. Was very impressed with the outcome, just beautiful. Thank you to all the staff who made this possible with such professional and courteous service and advice, outstanding.
Gillian Gilbert, Newcastle – Facebook Review
Fantastic customer service.
Fantastic customer service. Can't fault the professionalism of the installers. An asset to the company
Li Lo, Newcastle – Google Review
Excellent to deal with.
Excellent to deal with. Always on time and willing to listen to what I needed. Worked with me to find the best solution within my budget as well. The work was professional, neat and tidy. All contact was polite and the quoting, measure and installation guys were terrific. Thank you again. The rooms look great now.
Jeremy Dawes, Newcastle – Google Review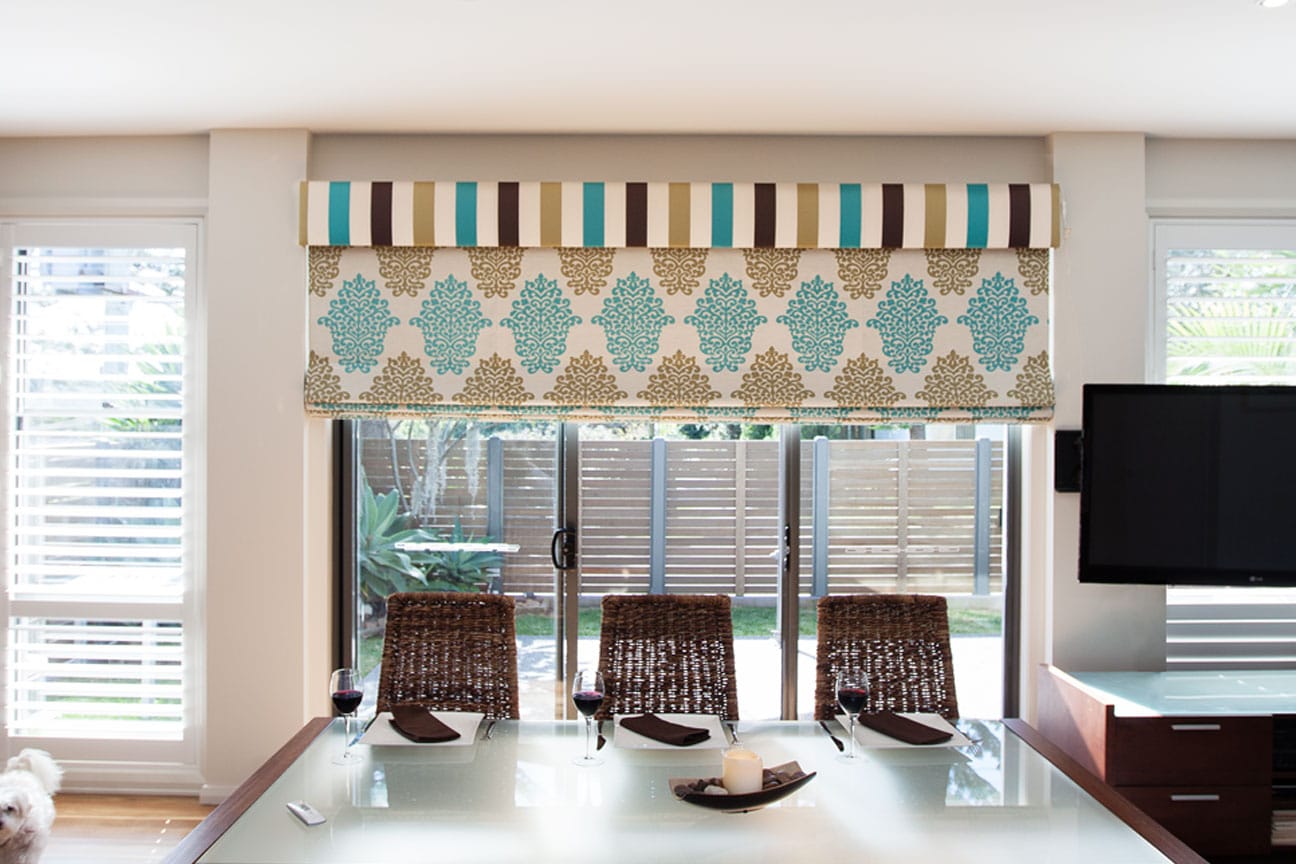 Pelmets
Curtain Pelmets can be a wonderful design feature for your windows. They provide an attractive alternative option to the exposed curtain track.  

Custom made pelmets not only provide an improved visual appeal they also offer improved energy efficiency. During the winter months, pelmets act as insulation stopping cold air at the glass. Conversely, in summer they work to trap the heat outside.

Choose from a range of pelmet designs. Keep things clean and simple or add that extra touch of luxury with a custom fabric pelmet.
Express Pelmet


3 Colours available + custom colour option
Max width 3000mm
Painted MDF Pelmet


6 Colours available + custom colour option
Max width 6500mm
Painted Timber Pelmet


7 Colours available + custom colour option
Max Width 5000mm
Stained Timber Pelmet


7 Stains Available – Custom Colour option
Max Width 5400mm
Bonded Pelmet


12 Shapes available
Max width 7000mm
Linear Valance


Max width 4500mm
Max depth 85mm
KS Track
Highly efficient hand drawn system for all types of medium weight draperies.  it can be bent and reverse bent with a 10cm radius or continuous curved, with a minimum 50cm radius. 
DS Track
Elegant and aesthetically pleasing hand drawn system for all types of medium weight draperies. Track can be bent and reverse bent with a fixed radius of 10 cm or continuously curved.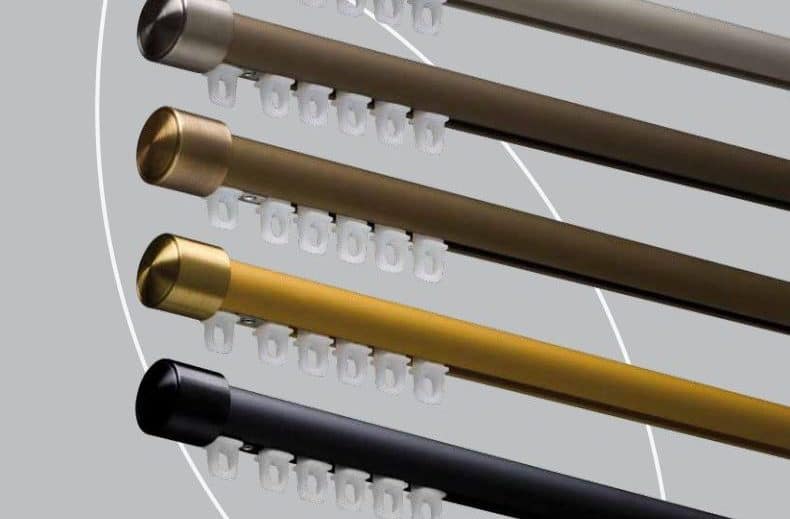 CRS Track
Elegant and trendy channel rod system. Bendable, both with an inside and outside corner with a 10cm (20mm) rod or 20cm radius (28mm Rod).  It can be bent and reverse bent with a 10cm radius (20mm) rod and 20cm radius (28mm) rod.
Get a Free Measure and Quote