The Best Bedroom Window Coverings in 2023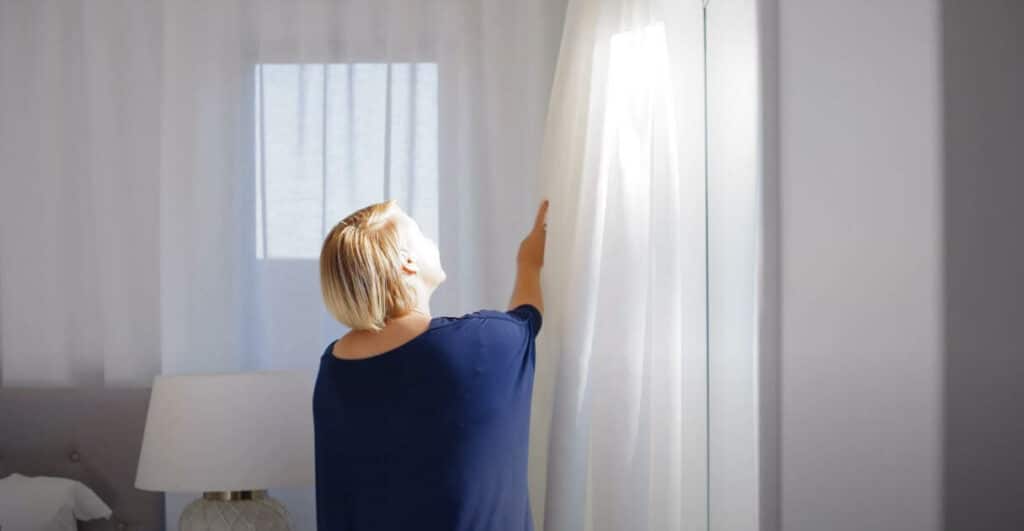 With the right window coverings, you can transform your interiors to be both stylish and functional. From window covers that allow light filtering to fully closed systems that ensure privacy, there are a variety of options!
Here are some of the best window coverings for your bedroom to create a functional and stylish living space.
Best Bedroom Window Coverings
Few people realise how window treatments can impact your home interiors. Not only do they impact energy efficiency, but with beautiful blinds, sheer curtains, and more, you can make a room look visually complete. But to bring your vision to life, you must research the latest trends on window treatment ideas.
Picking the right materials are key when it comes to the perfect window covering. To furnish your window with any covering, be it curtains, blinds, or shutters, always play around with texture and layering.
When searching for ideal window treatments, consider the impact on natural light and temperature in the room. Such factors can impact the amount of restful REM sleep you can get in your bedroom space.
Figuring out what type of window treatments are appropriate to use, requires professional expertise. Whilst building or redecorating a room, here are some of the best bedroom window treatments you can consider.
Blinds
Blinds are versatile window treatments that work seamlessly with your home's interior décor and structural integrity. You can find these in various styles, like Venetian and Roman, or various types, including roller and panel blinds.
Besides adding dramatic flair to your windows, blinds can efficiently filter light into your bedroom. You can opt for Venetian blinds, allowing some light to the room, but if you prefer complete darkness you can opt for thick block-out blinds.
For small bedrooms, indoor blinds are most beneficial. They can easily conform into the window's recess without taking up valuable space. You can further reduce light leakage into the bedroom with roller blinds.
Plantation Shutters
Plantation shutters are a popular choice for many Australian homes, as they offer a range of benefits. Besides being effortlessly stylish, shutters offer excellent sound insulation when they're closed.
Shutters are a great way to control the amount of air that comes into your bedroom, whilst still blocking out the heat from the sun. They can keep your home cool during summers and warm throughout winters.
For instance, outdoor, locking, or sliding shutters are highly popular in areas that experience extreme temperature conditions. If you're not happy with regular drapes, plantation shutters are a worthwhile choice that will give you excellent light and temperature control.
Fabric Curtains
Fabric curtains or drapes are popular choices for bedroom blinds, regardless of the size of your windows and doors.
There's a wide variety of fabric choices available in the market. You can choose a specific lining option for your curtains as per your home's interior design. Depending on your aesthetic and functional needs, there are many kinds of window curtains.
Some curtains can completely block light out of your bedroom whilst others allow partial light filtering. What's more, specific types of curtains can help keep your room warm during the winter or cool during summers.
What window treatment is best for a private ensuite?
Though hanging curtains are most common with bathrooms, they aren't quite as easy to maintain. For such spaces, often present in the master bedroom, aluminium plantation shutters are a better choice compared to other window treatments.
This is because bathrooms contain high levels of humidity, causing wood to rot faster and mould to form easily. With aluminium shutters, you can do away with such problems with a power coated layering for added protection!
Designed using moisture-resistant materials, such window treatments last longer, ensuring complete privacy in your bathrooms. Using non-abrasive cleaning agents, you can maintain the condition of aluminium shutters with ease.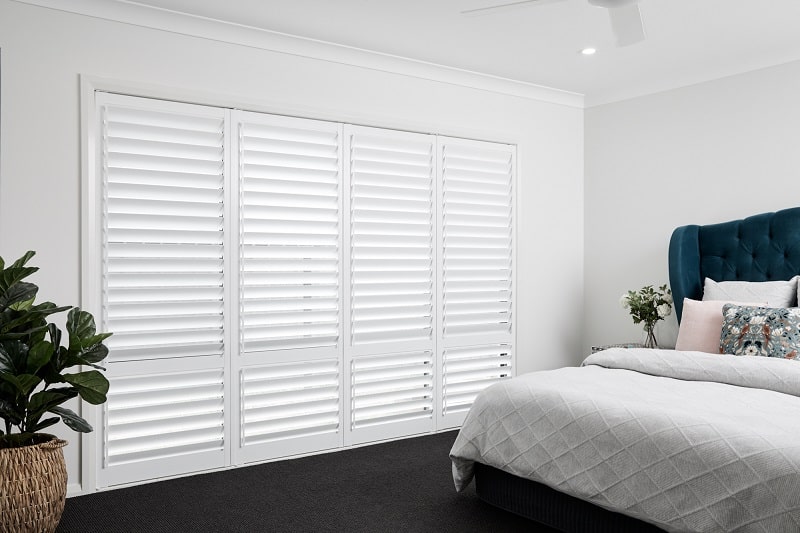 How to ensure light control and privacy with your window treatment?
Try a window film treatment
Rooms that overlook a street or a neighbouring home, require full window coverage to ensure absolute privacy. With a window film treatment, that is possible!
Window films create a sand-blasted look and you can pick a pattern that suits your design schema. Such types of temporary window treatments can be combined with blinds or curtains to block light and ensure privacy at night too.
Filter the light with shutters
Plantation shutters ensure adequate ventilation whilst filtering in as much or as little light as you want. Larger slats will allow more light to come in and give you a better visual scenario (inside and out) compared to curtains or blinds.
Shutters are a great way to improve curb appeal, often allowing you to create a private space that's of great value. You can choose a warm colour palette to bring in more sunlight, even when the weather conditions are grey and cloudy.
Control light with blinds
Roman blinds are most suitable for smaller bedroom windows, where the blinds are closer to the ceiling. This creates a lot of depth and adds height to the room. As the ceiling looks higher, your windows will look bigger.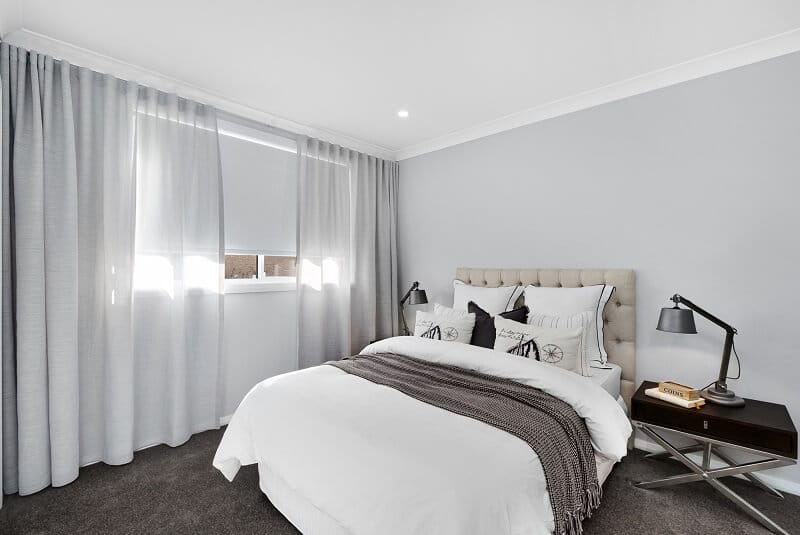 Things to avoid when buying bedroom window coverings
Start your search by looking at some sample window treatments. You will save so much time and money by preparing ahead of time. Whether it's a custom design or a standard fitting, here are some things to consider when deciding window treatments:
Ensure the fabric and stitching is of good quality.

Always consider the interior and exterior style of the house.

Don't measure and assess your window frame by yourself.

Consider maintenance and sustainability in your research.

Choose a specific hardware to support the window treatment.

Don't disregard functionality when choosing a window covering.
Latest Bedroom Window Ideas in Australia
The right window covering adds the perfect finishing touch to a bedroom.
It's important to note that wall colour, type of flooring, and size of room are some of the most critical factors that help determine the right covering for your bedroom window. This is because they greatly influence the overall feel and look of your bedroom.
Though different rooms have unique functionalities, it's common to mix and match different window treatment ideas for a stunning visual impact. Here are some helpful and practical tips to enhance your bedroom window.
Layered bedroom window coverings 
Layering is a technique most common with drapes, curtains, or shades, giving your space a unique style. The layered bedroom window treatment creates a softening effect, and takes your capacity for light control and privacy to a whole new level.
The most common layering effect can include a combination of your favourite shutters, blinds, or shades – wooden blinds or shutters, maybe Roman shades, or a layer of cellular shades. You can also add a cornice for a finished and minimalistic look.
Automated blinds for bedroom windows
Electric roller blinds are the perfect window dressing solution for any bedroom, regardless of how big or small it may be. You get fully-automated options like setting the time of the day when you want most light in your bedroom. You can also use muted fabric tones for automated blinds to get better light control.
From waking up slowly to natural daylight to getting a grand night's sleep completely free from light, electric blinds provide good coverage over your windows. Additionally, automated roller blinds are incredibly stylish, transforming your bedroom into a functional and private space at the touch of a button.
Sheer curtains for window frame
Modern sheer drapes are the best way to add polish to your home and ensure privacy without breaking the bank. They are a great solution in hot countries where heat insulation is not a priority.
A well-placed set of sheer drapes can help you adjust the amount of natural light entering the room. In fact, sheer curtains can add new dimensions to your bedroom space. You can hang them as a sole window covering or place them between heavier curtains for the extra flair. Additionally, sheer curtains ensure UV protection in a less intrusive way.
Do you need assistance with choosing new bedroom window coverings? Speak to an expert at Classic Blinds!
Finding the right window treatment may sound like a mammoth job…and it is!
If you don't know which window covering best suits your bedroom, or feel overwhelmed with choices, we can help! Schedule a consultation with a design expert to get things started.
Contact us Classic Blinds & Shutters today for expert advice or a free measure and quote!
More Classic Posts & Updates
We rely on curtains every day to make our lives more comfortable, but how do you choose curtains for your home? When choosing curtains for …
Do you want your window coverings to stay looking fresh and clean? Or are you looking for an easier way to clean plantation shutters? As …