Essential Guide to Sliding Outdoor Shutters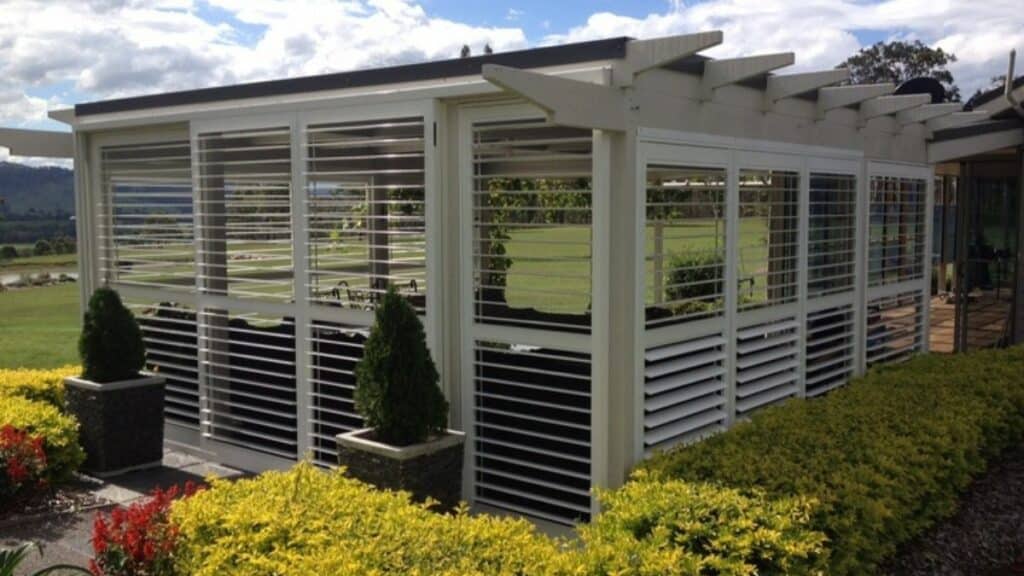 What can I use instead of blinds for sliding doors?
Finding an ideal window treatment can be such a pain! While there are many types of external shutters, the best sliding outdoor shutters are aluminium based and a great addition to any home, especially those lacking space.
Unlike blinds and drapes, plantation shutters offer better stability and plenty of insulation. They also help control both light and airflow.
Read on to learn more about installing aluminium plantation shutters as sliding outdoor shutters.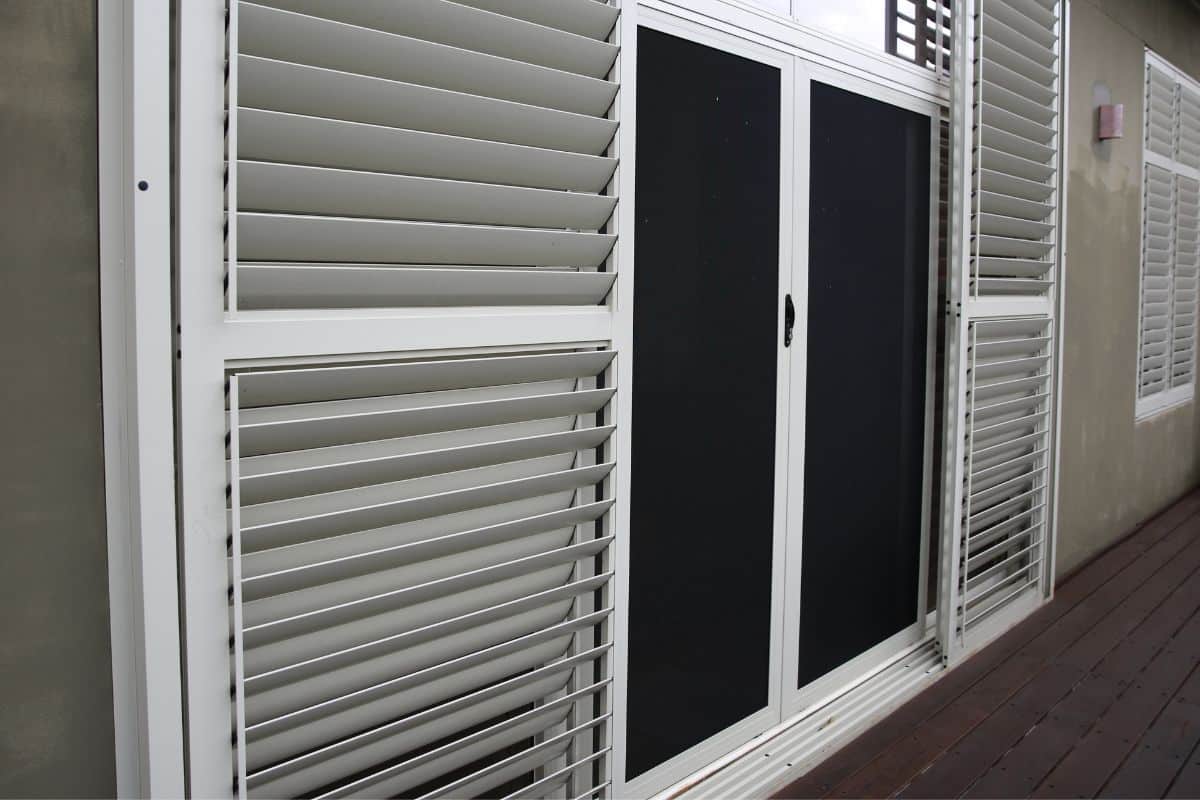 Can You Have Shutters as Sliding Patio Doors?
Yes, you can!
Sliding outdoor shutters are a space-saving measure.
They don't require additional areas to open and close. As a result, they can really open up homes with limited space.
Compared to blinds, sliding plantation shutters provide consistent coverage against the sun and can help reduce energy consumption. Additionally, the extra insulating layer helps soundproof your interiors.
Benefits of Installing Aluminium Sliding Shutters?

You can install such plantation shutters internally or externally, so they're perfect for hinged doors, bypass and sliding patio doors. Owing to their versatile application, they're perfect for all Australian weather conditions. 
Such window coverings help enhance your home's exterior by:
Controlled access: Unlike outdoor blinds, external shutters help you cover sliding doors, giving unlimited access to natural light and airflow at your convenience. They also ensure all levels of privacy are met and your view stays clear and unobstructed.
Reduce your energy bills: Most shutters for aluminium louvres help your house cool in the summer and warm during winter. They limit the need for indoor heating and cooling, decreasing your energy consumption in the process.
Easy operation: Such window treatments require minimum intervention. In fact, some aluminium shutters provide smart control of natural light. You can also rotate the louvres to a specific angle for the best light transmission.
Filtering natural light: High-quality shutters for sliding doors come with a range of features, such as giving you control of the amount of light you want coming in. You can also close the blinds to preserve and protect your private moments.
Custom fit: External sliding shutters can be custom-made to fit the actual frame of a window or door. Compared to blinds that require more manual intervention, aluminium shutters open along with the actual door.
Protecting your belongings: Outdoor shutters are built from the highest quality aluminium to shield your sliding door against the elements. They have great strength and durability so they don't flap around on a windy day.
Where Can You Install Louvre Shutters?

Aluminium louvre shutters give you the flexibility to transform your outdoor living space throughout the year. Typically, sliding plantation shutters are used to:
Enclose an outdoor patio, lounge, or balcony 
Protect your outdoor area from intruders
Contain high-traffic areas with kids or pets
Ease mode of operation in limited spaces
Can You Install Shutters on a Sliding Glass Door? 

Sliding glass doors may give you an excellent view but they also limit privacy and light filtering. But not every window covering ensures efficiency. Plantation shutters are an excellent choice for most sliding doors.
They are a practical window treatment that features adjustable louvres, effectively helping you control light and airflow to create a comfortable environment. Some shutter panels can even slide behind each other for easy access.
For instance, modern roller shutters protect your glass doors from strong winds, saving you lots in maintenance costs. They also block out most of the sun during the hottest times of the year, making your home more comfortable.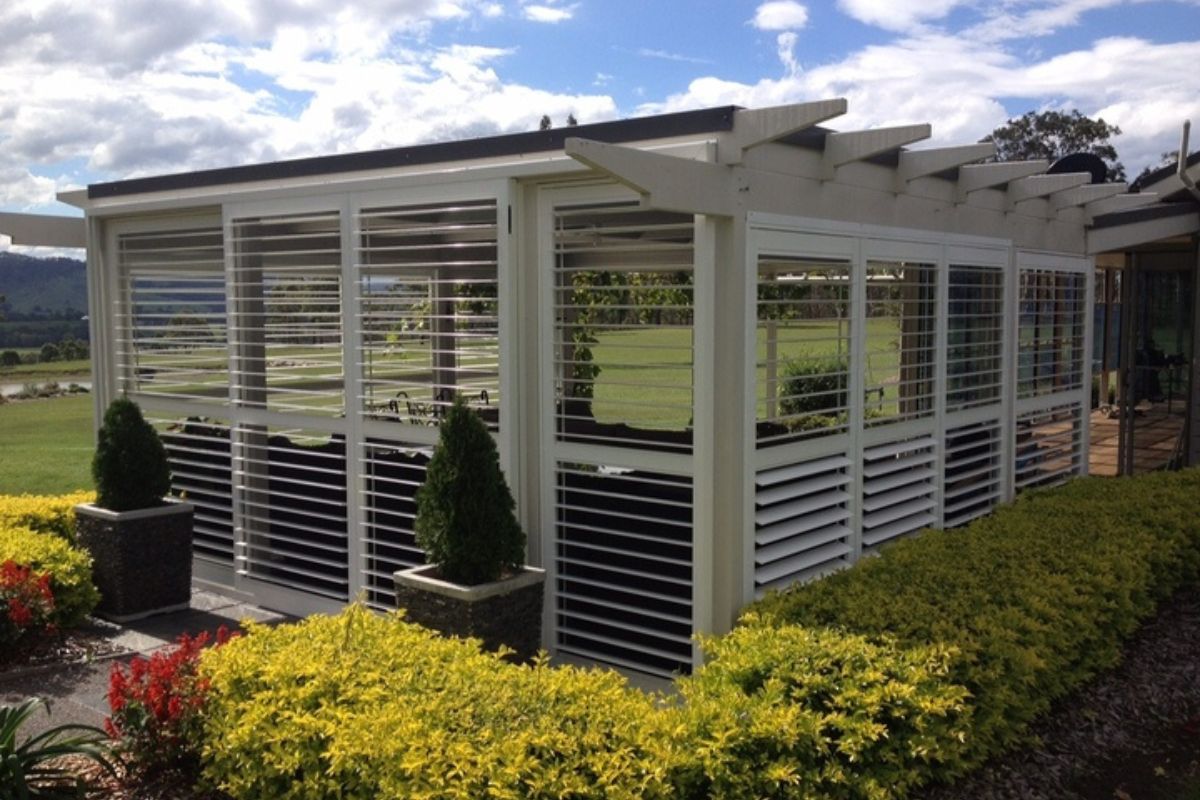 Do External Aluminium Shutters Increase Home Value?

Modernise your home with aluminium shutters to add a truly upscale look to your outdoor patio space. They're a budget-friendly upgrade offering you better weather protection, improved airflow, and easy accessibility.
Plantation shutters help regulate light and temperature at your convenience. Not only is this a better energy-saving model, but it also provides more privacy. This only makes your home all the more appealing to potential buyers.
Aluminium shutters also don't lose their integrity for years to come and are easy to clean, adding more value to your home. Such structural assets lead to a higher appraisal value for your property so they're a worthy investment.
What is the Cost of Installing External Shutters for Sliding Doors?

A range of factors impact the overall cost of installing external sliding shutters beside the size of your window or glass door, including the cost per metre.
Another factor you need to consider is blade size, though this largely depends on the application. Standard sizes are available in the market range from 64 to 89 millimetres in width.
But the most important factor is the material you choose. 
Most experts recommend aluminium sliding shutters as they provide a moisture-resistant solution for properties based in humid areas. They also feature a non-corrosive frame that is as strong as steel but lighter than most metals.
Some models are powder coated for added protection and some are available with top and bottom tracks for added traction. You can also get better light control inside your space by determining a suitable frame system.
Transform Your Home with Exterior Sliding Shutters
Aluminium shutters are an excellent solution for sliding doors that receive too much sunlight or are exposed to a lot of wind. Whether it's a small patio door or an outdoor room, we can offer stylish and effective solutions.
Our plantation shutters are customised to suit your needs, following all regulatory requirements and safety protocols. If you're looking for outdoor sliding shutters, speak to our specialists for expert advice or get a customised quote.
Contact Classic Blinds & Shutters today!
More Classic Posts & Updates
We rely on curtains every day to make our lives more comfortable, but how do you choose curtains for your home? When choosing curtains for …
Do you want your window coverings to stay looking fresh and clean? Or are you looking for an easier way to clean plantation shutters? As …