Should You Add Outdoor Shutters for Decks?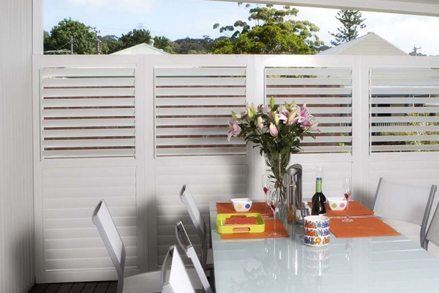 Outdoor shutters offer all kinds of flexibility in their design and operation.
By adjusting the louvre slats, you can control all levels of privacy and visibility. Louvre shutters protect your outdoor area against the elements. They can withstand years of wear and tear, lasting anywhere between 15 to 20 years in an exterior setting.
Here's why you should consider installing one.
Why Install Outdoor Shutters for Decks?
Outdoor shutters are designed to be sturdy and long-lasting. Made from durable material, exterior shutters can turn any outdoor space into a peaceful sanctuary. Here's how: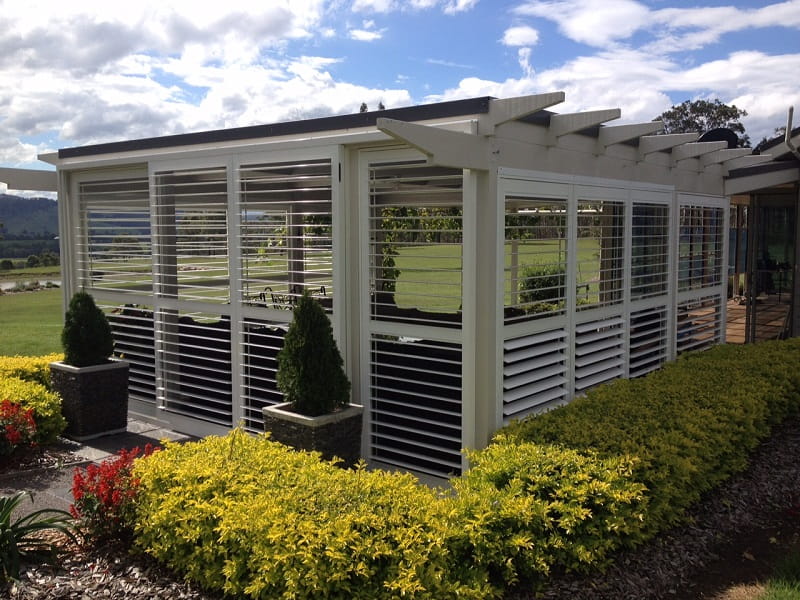 Outdoor Shutters Offer Convenience

With adjustable shutters, you don't need to worry about external elements, like dust and debris or strong winds blowing in the area. Additionally, adjustable shutters prevent the sun from heating up the deck by providing adequate coverage on hot summer days.
You can also enjoy the scenic landscape of an outdoor living space at your comfort. This is because adjustable shutters ensure absolute privacy. You can control the amount of natural light that comes through and limit visibility from neighbours.
Available in a Range of Designs

External shutters are custom-made to fit a specific space, like a deck or patio area or any other outdoor living area. Design options and other specifications can vary between customers, but you can choose from a range of options for outdoor plantation shutters, including:
Bi-fold shutters

Hinged shutter doors

Sliding/adjustable shutters

Hinged patio shutters  

Outdoor louvre sliders
Easy to Operate and Use

Shutters of all kinds are designed with mechanisms that allow you to enclose your outdoor area with ease to protect it from harsh summer or cold winters. Whether its external aluminium shutters or sliding doors, such extensions provide shelter against sunlight, rain, glare, and extreme weather conditions for a functional living space.
Ensure Better Performance

With adjustable shutters, you can make outdoor areas more comfortable and enjoyable by ensuring optimal conditions. Outdoor shutters close at specific angles to reduce heat and light, helping you keep the deck area cool. As a result, they limit exposure to the sun and decrease your dependency on electricity.
Create a Living Space Outside

If you have a real penchant for the outdoors, create an amazing space with a classy look with the help of plantation shutters. Such extensions provide ample room size to accommodate a deck, patio, or porch, letting you control the outdoor experience. They can be installed across or atop an open space – even openings between two walls.
Different Types of Material Available for Outdoor Shutters
Aluminium Plantation Shutters

The toughest, most durable material for a window treatment is aluminium. Our Australian-made aluminium plantation shutters are one of our most popular products and adds exceptional value and thermal quality to a home.
Most commonly used in banks, offices, malls, and other commercial establishments, this metal screen does cost more compared to wooden or vinyl shutters. But aluminium offers sun protection, water resistance, and long-lasting performance.
Outdoor aluminium plantation shutters are robust enough to withstand strong winds, torrid rains, snow and storms. Additionally, they provide privacy by deterring trespassers and limiting visibility as per your convenience.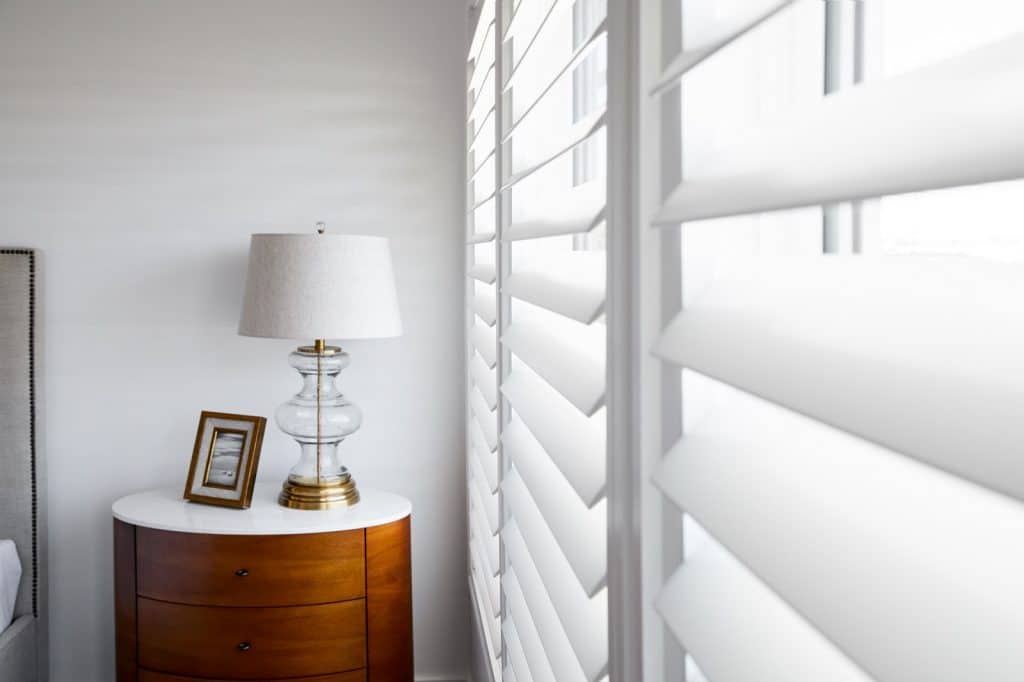 Wooden Shutters

Traditional wooden shutters are not only appealing but also durable material that can complement any home exterior. For instance, timber shutters are made from high quality hardwood such as red cedar and basswood. But wood will naturally rot when it's exposed to excess moisture. As a result, wooden shutters require a lot of maintenance and repainting.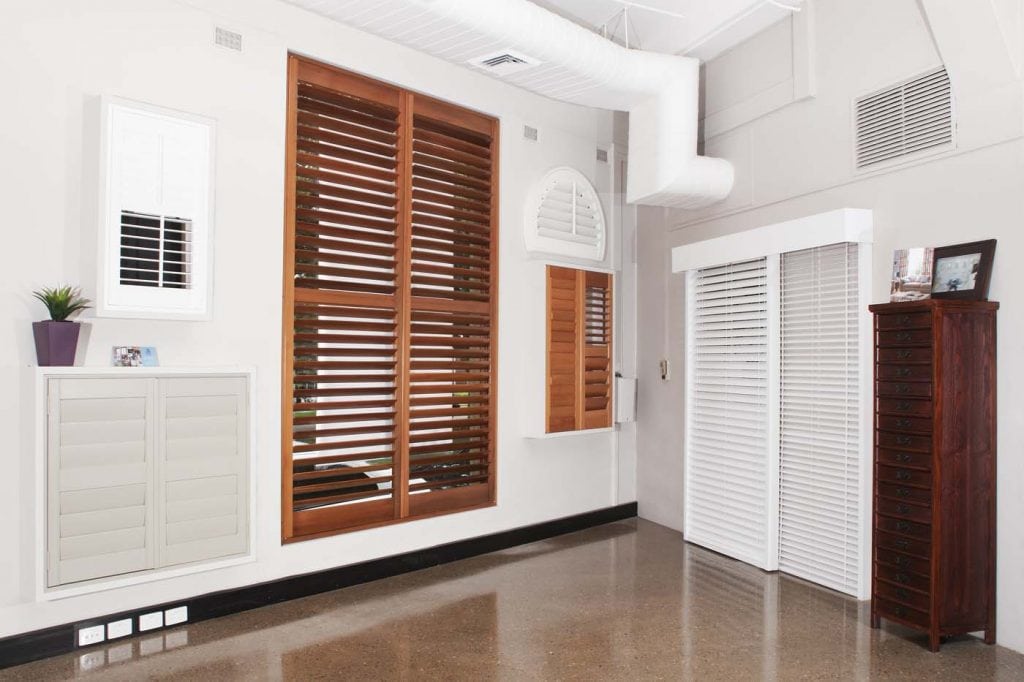 PVC Window Shutters

PVC window shutters are affordable, easy to install, and are low-maintenance. Though PVC window treatments are easy to set up, they are not very resilient. As a result, shutters made from PVC material will not last long when left exposed to harsh elements. For better shielding, an ideal option is aluminium outdoor shutters.
Upgrade Your Deck with Outdoor Shutters

Our experts at Classic Blinds & Shutters can custom design plantation shutters to best suit your home interiors. Our outdoor shutters are tailored to fit your windows in a style and size of your choosing.
We also manufacture and sell custom made curtains, blinds, and locally crafted plantation shutters in Newcastle, NSW. We do offer the option to customise your outdoor window coverings, specific to your needs.
Whether you're looking for high quality aluminium shutters, patio blinds, or motorised awnings, choose a suitable window treatment from our product range.
Contact our experienced team if you want a free measure and quote.
More Classic Posts & Updates
We rely on curtains every day to make our lives more comfortable, but how do you choose curtains for your home? When choosing curtains for …
Do you want your window coverings to stay looking fresh and clean? Or are you looking for an easier way to clean plantation shutters? As …