Kitchen Window Covering Ideas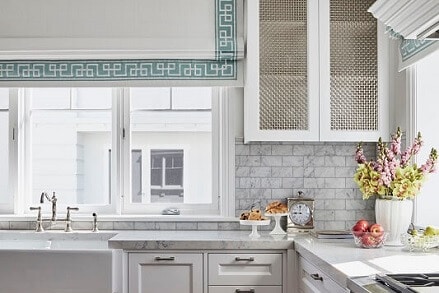 If you're looking for kitchen window ideas to upgrade the look and feel of your kitchen, there are plenty of options to consider. Perhaps you already have a solid plan in mind, or maybe you're just looking for some inspiration.
When upgrading for the best kitchen window treatments, you need to consider the placement of the window in relation to food preparation areas, how often you use the kitchen, how easy they are to clean and maintain, and of course, your own personal taste and preference. This guide will walk you through some key aspects to consider when choosing the best option for your home.
What To Consider When Choosing Kitchen Window Treatments?
Proximity To Food Preparation Areas, Water, and Steam
Before you pop into your local showroom, take some time to think about your kitchen. Where is the window in relation to the sink, stove, or other food prep areas? Water, steam, and grease can often splash up onto the windows when working in these areas so if your window is near any of these spots, it might be beneficial to choose custom blinds or window shutters rather than kitchen curtains.
If the window you're looking to cover is well away from any food prep areas though, you can absolutely consider curtains. Just ensure that the fabric you choose can cope with the steam and condensation that can accumulate within a kitchen space.
Durable And Easy To Clean
Something else to consider when looking for kitchen window treatment ideas is how easy the solution is to clean. 
Splashes of grease and water can be wiped off easily from water-resistant, durable materials such as aluminium, faux wood, or vinyl. Fabric is not so easily wiped down, especially when grease is involved, which can mean your curtains need to come down regularly to be washed.
Bamboo blinds are a popular choice for kitchen windows due to their minimalistic style and appeal. They are also easy to clean and maintain. However, natural wood materials can become warped when wet and so it is important to dry them thoroughly after you wipe them down. Also, if your kitchen becomes particularly steamy, especially in the colder months, consider how the condensation might impact the lifespan and visual appeal of the blinds over time.
Which Blinds Are The Most Durable And Easy To Clean?
Aluminium horizontal blinds

Vinyl vertical blinds

Faux wood horizontal blinds

Vinyl roller blinds
Personal Taste And Existing Decor
The window treatment you choose must also align with your personal taste and preference as well as existing decor to upgrade the look and feel of your home.
There are plenty of kitchen window shades to choose from, such as roman shades, venetian blinds, shutters, roller shades, and more. If there is a specific result you're after, why not have a chat with your local showroom?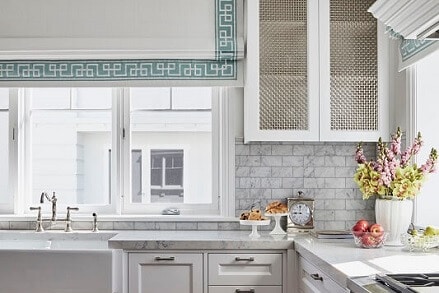 What Are The Best Window Treatment Options For Managing Kitchen Privacy? 

If your kitchen windows face into the street, or onto other houses, you might be considering a window treatment that offers privacy as well as style and light control. Blinds, curtains, and shutters can all be manually adjusted to control light and privacy and can be made in a wide variety of materials to keep those prying eyes out. 
If you anticipate your blinds to be in their closed position regularly and are positioned about a sink or stove, we highly recommend opting for a vinyl horizontal or vertical blind that is easy to clean with a damp cloth and can be adjusted easily. 
The best window treatment choices for added privacy in kitchen windows are those that can be easily adjusted to manage light during the day and closed at night. Some solutions will do this better than others.
Curtains and blinds can be made up of different fabrics, each designed for a specific purpose. Generally, there are translucent, sunscreen, and blackout fabrics. If you're considering a fabric solution for your kitchen windows, consider your need for privacy and choose accordingly. If you're unsure of your needs, why not consider dual roller blinds to take advantage of two fabrics instead of one. For example, you could use the translucent shade during the day to let lots of light in and then switch to the blackout option when the sun goes down.
Which Blinds Are Best For Controlling Kitchen Privacy?
Dual roller blinds

Vinyl roller blinds

Automated blinds
Are Cellular Shades Good For Covering Kitchen Windows?

While researching the best window treatments for covering kitchen windows, you might have come across cellular shades. Also called honeycomb or cell shades, these blinds feature a unique hexagonal structure. They are great insulators, making them efficient when heating or cooling your home. They are also highly durable and are designed to resist wear and tear. They are less prone to warps, fading, and cracks, meaning they have a long lifespan. Their unique construction also makes for great privacy control as they are incredibly difficult to see through. They can be cleaned easily with a vacuum or damp cloth. 
An unfortunate downside of cellar shades, however, is that they tend to absorb moisture and odours; both of which can regularly occur within the kitchen. So, they aren't usually recommended as a good solution for kitchen windows. If the window is reasonably distanced from food preparation areas such as sinks or stoves you should be ok, but you might find the shades need to be replaced earlier than they might have in another space.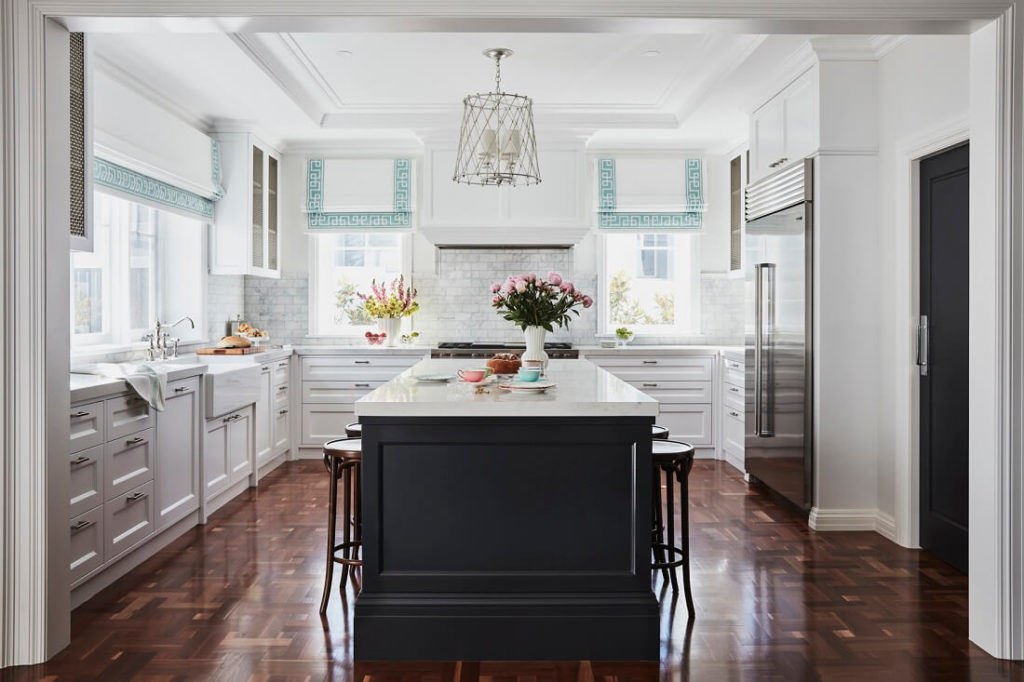 What Are the Best Window Covering Ideas for Kitchens?
There are lots of options available if you're looking for ideas to cover your kitchen windows. Which one is best for your home, however, will depend on the position of the window, the nature of your kitchen, your privacy and light control needs, and how much time you are willing to dedicate to upkeep?
The best options are durable and easy to wipe down when splashed with water or grease but still allow for privacy once the sun goes down. For specialist support and recommendations, contact the friendly team at Classic Blinds. We will work with you to find the perfect solution that will meet your needs and boost the overall look and feel of your home.
Classic Blinds & Shutters sells custom curtains, as well as blinds and Australian-made plantation shutters (which we manufacture) in Newcastle, NSW. For more information or a free measure and quote on the best solution to cover your kitchen windows in your home, contact Classic Blinds & Shutters on 02 4940 8335 or email [email protected].
More Classic Posts & Updates
We rely on curtains every day to make our lives more comfortable, but how do you choose curtains for your home? When choosing curtains for …
Do you want your window coverings to stay looking fresh and clean? Or are you looking for an easier way to clean plantation shutters? As …