How to Increase the Value of Your Property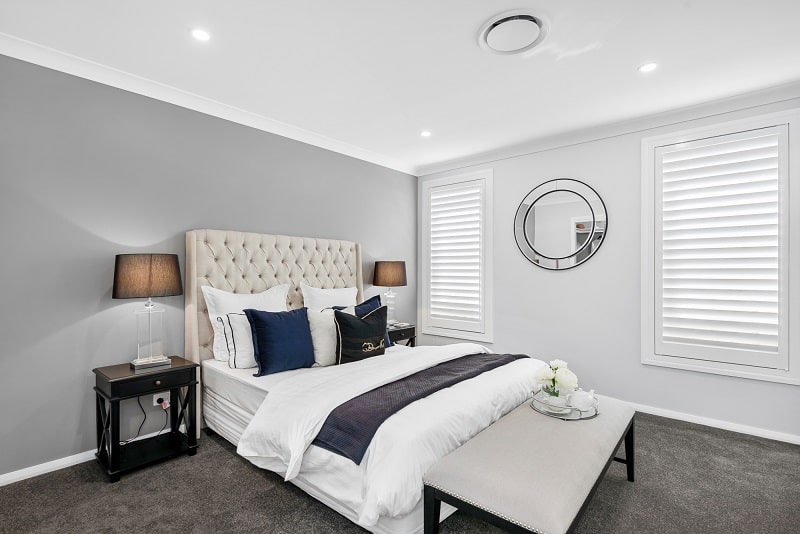 There are many ways to up the value of your home, all of which promise to boost the aesthetics of your dwelling without costing the earth.
You may be asking yourself how much value can I increase on my home?
From applying a quick lick of paint to adding new blinds, revamping your exterior space or upgrading existing flooring, all of these projects promise instant curb appeal, and if you do wish to sell your home, help you do so for the right price.
Here Are 10 Ways To Increase Property Value

From decorating to renovating, read on to discover our top property value tips and tricks
1. Apply a fresh coat of paint

Whether to an interior room or the exterior of your home, adding a fresh lick of paint to your living space is a great way to boost property value.
It's also one of the easiest ways to do so. Although minuscule defects such as peeling paint, chipped doors, or cracked plasterwork won't impact the value of your property directly, these defects can easily put potential buyers off and, as such, stop you from getting offers at the optimum price.
For best results, use nude, generic hues, such as creams, whites, off-whites, and greys, as these paint colours tend to appeal to everyone – a lime green or hot pink paint job may not! Contact a professional painter to enquire about any questions or advice that you may need to achieve your dream colour.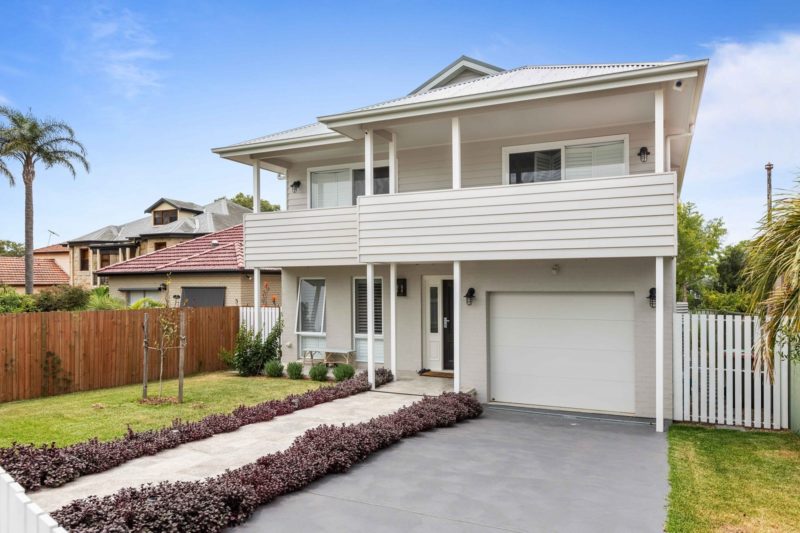 2. Add a patio or an outdoor area for entertainment

Adding an entertainment area or covered patio to your home is a great way to heighten its value and create the illusion of more space.
However, it's important to note that the most extravagant, high-end upgrades likely won't increase your home's actual value significantly in comparison to standard house upgrades.
Whether this is a simple tidy-up job or a complete overhaul, adding new shrubs, plants, trees, hedges, and beautiful blooms to your garden is a great way to add curb appeal.
From little touches such as using garden beds to separate certain areas to adding impactful features such as solar lights, ponds, and fountains, there are plenty of ways to bring your exterior space to life. It's a low-cost way to make all the difference to prospective buyers.
3. Add pools and spas

A pool or spa isn't for everyone, however, installing one or both in your home is a great way to appeal to a specific market and potentially increase the value of your house.
From entertaining children or guests, many families are seeking out a house that includes a pool or spa and, as such, are well-positioned to cover the maintenance costs involved.
They will often specify this stipulation to their real estate agent or real estate agents when searching for a property.
4. Remodel your kitchen

From fashioning an open-plan kitchen to fitting new and modern appliances to improving the lighting in this space, an aesthetically pleasing, tidy and sociable kitchen is of value to both surveyors and buyers.
Before you go ahead and remodel or replace your kitchen in its entirety, consider key fundamentals such as position and shape. This will help you to establish whether or not any structural changes are required or whether moving the location of the kitchen altogether would be a better idea. A modern kitchen can be one of the key areas to add more value to your home.
In most cases, a kitchen renovation may sound like an expensive job, but kitchen remodels can often be completed for a modest price and have a huge impact on the value of your home.
Looking to make small changes only? Replacing or repainting unit doors or old light fittings is a great place to start, whilst adding new worktops to your house kitchen can change the entire look and feel of this space.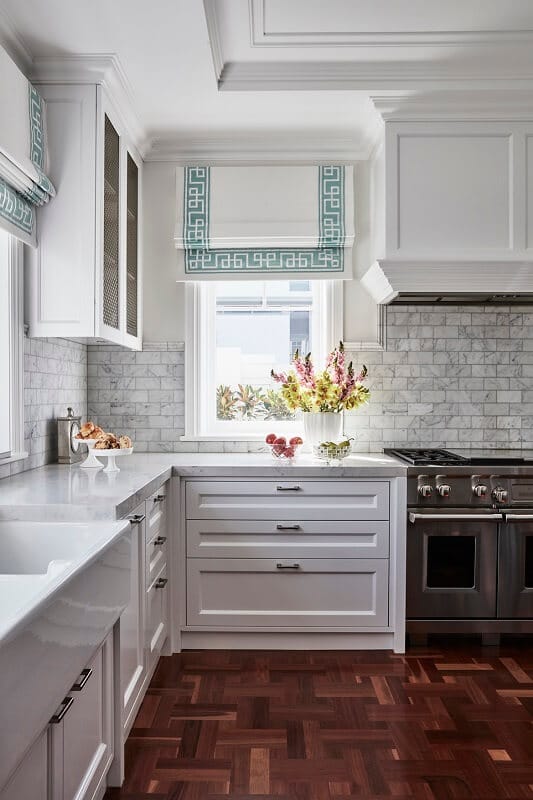 5. Upgrade the flooring and lighting

Both lighting and flooring play a big part in boosting the values of a house, especially if you opt for smart lighting that can be tweaked at the touch of a button to create an ambience or floors featuring underfloor heating. Old flooring can add a sense of darkness, and add a dull factor within your home. Contacting lighting experts to help with lighting desires.
6. Make your home energy efficient

Today, more and more buyers are wishing to invest in homes that are energy efficient. Why? Because they want to do their bit for the planet!
Ways you can improve your home's energy efficiency include adding energy efficient window coverings, LED lighting, and adding solar panels to your house. Solar electrical systems are the most efficient way to power a house. With the current trends of electrical prices implementing a solar system into your electrical system can dramatically increase the value of an average property.
These are a great investment, particularly in today's eco-conscious world. It is surprising how much energy we can gain from the sun, which can be used to power our homes.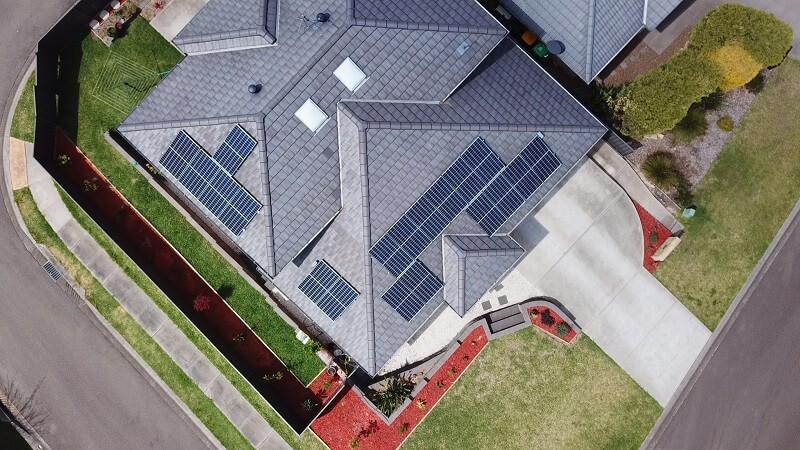 7. Upgrade fixtures and fittings

From fans to door fittings and cabinets, replacing any tired fixtures and fittings will have a big impact on your home. Just remember impressions count, and this is a simple, budget-friendly and effective way to make your home appear attractive to potential buyers.
The fixtures on your windows are also very important, and need to be strongly considered. Having solid and structurally sound windows are a necessity for one one of the ways to add value to your home
8. Renovate your bathroom

It is imperative that all bathrooms in your home (whether the main bathroom, an ensuite or the guest bathrooms) are hygienic and fresh in style.
Once you have these two factors nailed, this space is the perfect place to add a luxurious touch, which will translate into a value-adding wow factor.
For best results, paint the walls a neutral shade and ensure there is adequate lighting (both natural light and contemporary light fixtures).
This should be the perfect balance of relaxing and bright. Renovating a bathroom is eye catching for buyers, and can definitely increase the house price resulting in more money for the seller.
It is also important to ensure at least one bathroom in your home boasts a shower, as this is a necessity for the majority of potential buyers.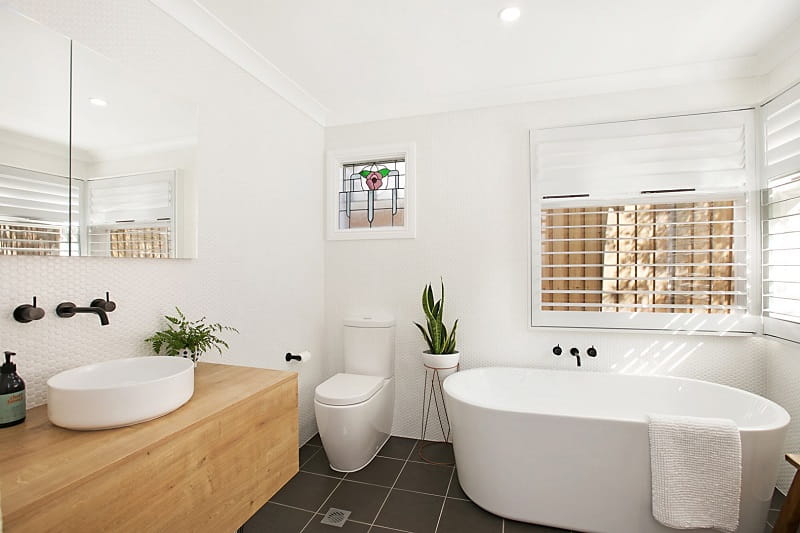 9. Revise your window treatments

Revamping your home's windows is a great and effective way to add both value and style to your home.
There are numerous options to choose from, spanning from blinds, plantation shutters, or curtains – complete with automation and awnings. With so much choice available, there is something to suit all tastes and styles.
To boost the ambience of a room, opt for blinds or plantation shutters. For a more luxe finish, choose a rich fabric in the shape of a timeless blackout curtain.
Window coverings are not something you will change often, which means choosing quality, timeless style is key. They also add ambience, style, and privacy to the whole room. Plantations are a perfect choice to increase home value.
To ensure you pick the best option for your needs, it's wise to speak to an expert to gain professional information on what styles and fabrics work in what rooms and what items are available that are suited to your budget.
Outdoor blinds on a entertainment area can also work effectively for property appeal.  The look and feel of a well planned and functional out door area, regardless of the weather situations is priceless.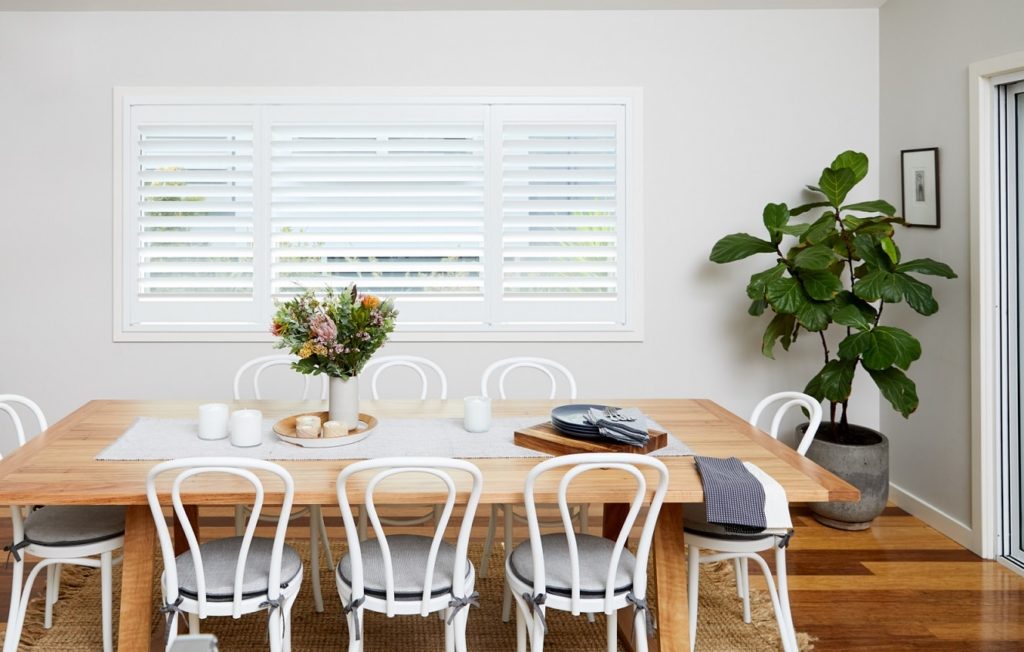 10. Increase the curb appeal of your home

Your home's exterior is just as important as the interior for a potential buyer. From garden maintenance to adding a new front door, a new coat of paint, or snazzy outdoor furniture to your abode, all of these details will add to the visual appeal of your home.
You may also wish to give tired walls and paving stones a deep clean using a power hose. Doing so makes a real difference to a potential buyer's first impressions of your home, as well as the overall value.
Other ways to revamp your outdoor area include repairing any broken brickwork, replacing broken garage doors, repainting walls or adding a porch making the street appeal more effective for potential buyers.
Does a greenhouse add value to a property?

It isn't guaranteed that a greenhouse or vegetable garden will increase the perceived value of your home. However, it may appeal to potential buyers looking for a home that features things such as an area to grow fruit and vegetables. This is especially the case if they are garden enthusiasts!
How much does a concrete pool cost?

On average, the cost of a concrete pool tends to fall between $50,000 to $75,000. This is for a larger pool, and you may be able to install a smaller set-up for around $35,000. When speaking to a specialist, it is important to ask what is included in the price before going ahead with the installation, so you can assess the potential return through any added value to your home.
How can I make my house more energy-efficient in Australia?

Solar panels are a great place to start! Although they cost a little to install, they generally pay for themselves over time, saving you money on energy bills in the long run. They're also kind to the environment!
Final Thoughts
From small updates, such as making room for storage space to adding a stunning feature wall in a bedroom or living room, to a full renovation, if you wish to increase the value of your home in a cost-effective manner, there are a few key things you can do.
All it takes is careful planning, patience and vision to ensure potential buyers can appreciate the right perceived value.
More Classic Posts & Updates
We rely on curtains every day to make our lives more comfortable, but how do you choose curtains for your home? When choosing curtains for …