Unsure whether plantation shutters are suitable for your home? Want to see the look and feel of the curtain fabric before you choose? Visit the Classic Blinds & Shutters Showroom on 154 Parry Street, Newcastle West. View the full range of our products, styles, fabrics and our plantation shutters in store.
With a wide variety of plantation shutters on display, you can find the right style to suit your home. The showroom has functional full sized samples on display of all our window covering range. Plantation shutters, blinds, curtains and all external window furnishings are on display.
Our team at Classic Blinds & Shutters take pride in our customer service. The showroom will assist you to work out the best window coverings solutions for your home.
Australian Made Plantation Shutters
We have been manufacturing Australian Made Aluminium Plantation Shutters for over 10 years. With our own manufacturing facility located in Cardiff. This has allowed us to manufacture custom solutions for a variety of indoor and outdoor areas. Our showroom has full displays to show the potential of our plantation shutters.
Being an Australian manufacturer, we have greater control over the quality of our products. We pride ourselves on producing the highest quality, most durable product available.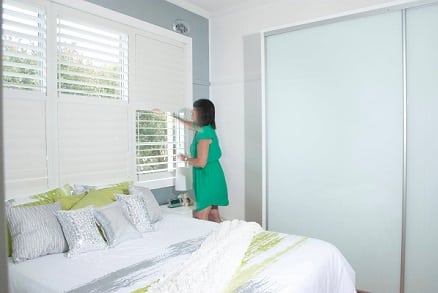 Blinds
Our showroom have a huge range of gorgeous blind fabrics – from savvy stripes to edgy-but-elegant prints. Create contemporary chic or make a bold statement. Be brave and mix it up for a more individual look, or bring us a picture of your room so we can integrate all the elements. Go for it! Blinds are an inexpensive way to change your look without breaking the bank.
Awnings
Creating a stylish atmosphere outdoors is as important as a comfortable interior. Window shades can block out the sun, glare or add UV protection to your flooring and furniture. External blinds and awnings are the perfect solution to looking good on the outside.
Want to see how they work? The Showroom have an extensive range to view and test. Simply come in at your leisure to browse or book a one-on-one consultation with our specialists.
Curtains
Give your spaces a visual rhythm and welcoming ambience with our designer curtains, bedheads & pelmets. A striking fabric can add some real pizzazz; a subtle print can pick up a simple detail and transcend the boundaries of style.
Bring your ideas or just come explore our range, our showroom staff can help you create a style that lights up your room.
Visit the Classic Newcastle Showroom
Our showroom is open 6 days a week, Monday – Friday 9am-5pm and Saturdays 9am-1pm. We have staff that help you find the right solution to your window covering needs.
Classic Blinds & Shutters service areas across the Lake Macquarie, Newcastle, Port Stephens & Maitland. Our friendly sales consultants can come to your home and assist you in making the best decision for your space. Organise a free quote today or visit our Newcastle Showroom for more advice.