Should You Install Black Plantation Shutters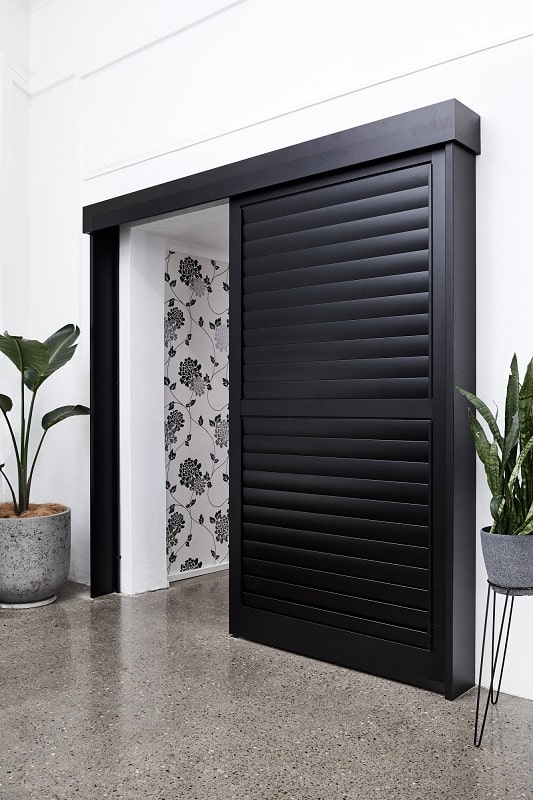 Aluminium plantation shutters have gained popularity over the years and are available in a wide range of colours – most popular being white and black. But should you install black plantation shutters?
Homeowners seeking a modern and striking aesthetic might consider black plantation shutters for their windows. These shutters add an element of sophistication and style. They provide practical advantages, such as light control and thermal insulation, and are easy to install. Homeowners often use them for both window coverings and sliding doors. Timber plantation shutters are also popular, however they are not as durable or moisture resistant as aluminium shutters.
When deciding to install black plantation shutters you should think about your home design and the specific style of your windows.  Black shutters can create a dramatic contrast against lighter-coloured walls and window frames. 
Weighing up the costs of installing plantation shutters is important. Bespoke shutters can range from $70 to $420 per window. This can be a significant investment for homeowners. 
Black plantation shutters last a long time. They offer improved energy efficiency and have timeless appeal.  These advantages can outweigh the initial costs in the long term.  The decision to install black plantation shutters depends on the unique preferences and requirements of the homeowner.
Visit Classic Blinds and Shutters to discover how plantation shutters can transform your home.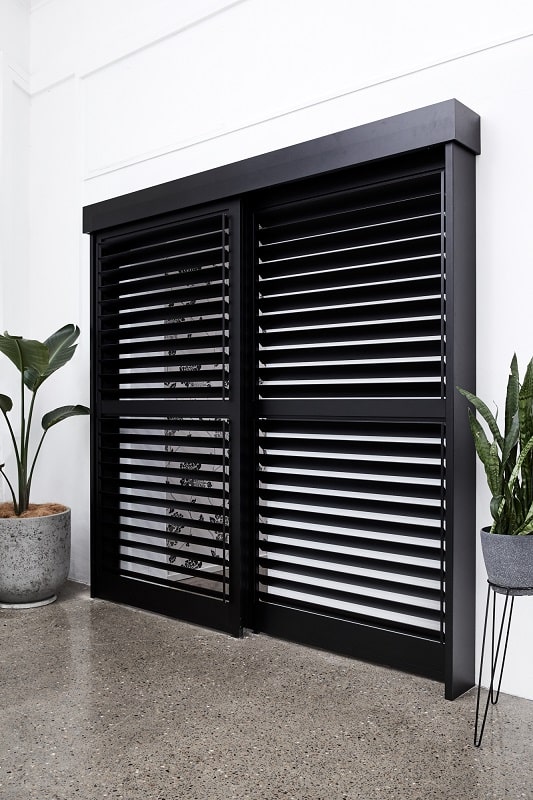 Why Consider Black Plantation Shutters
Black plantation shutters add a sleek and modern touch to any room. The dramatic colour choice makes a bold statement. Black shutters can enhance the overall décor adding visual interest to the space. The contrast between the black shutters and lighter wall colours gives a dynamic look, adding depth and elegance.
One of the key advantages of black plantation shutters is they can control light entering the room. The adjustable louvres are easily positioned to allow you to control the amount of natural light coming into your space.
Privacy is an important concern for many homeowners. Black plantation shutters are an excellent solution. The solid construction and adjustable slots allow complete control over how much of the outside world is visible inside your home. When you close the shutters they give a better level of security and privacy control than other window treatments. 
Black plantation shutters are environmentally efficient. This is a valuable feature for people considering the impact on the environment. It is also important for your budget. These shutters provide excellent insulation, reducing heat by up to 10.1 – 19.6%. This means a lower consumption of energy and reduced cooling costs. 
The shutters also keep homes warmer during the cooler months. For the homeowner this is another saving in both energy and money.
Factors to Evaluate Before Installation
Before deciding to install black plantation shutters there are several factors to consider to ensure they are the perfect right fit for your space.
Black plantation shutters can make a dramatic statement in a room. They can both enhance and overwhelm a space. It depends on the size of your room. 
In larger rooms black shutters can create a focal point without overpowering the space. In smaller rooms they will make an area feel more enclosed and dark.
Always think about the room size before installing black plantation shutters. Be sure they will complement your room and not make it feel cramped.
The colour scheme of the room is important in deciding to install black plantation shutters. These shutters can create a stronger contrast with lighter colours. They will blend smoothly with darker shades. 
Think about your existing colour scheme and decide whether black shutters will blend in with the rest of the room. If you are unsure, talk to a consultant at Classic Blinds and Shutters. They are experts and will be pleased to advise you.
Black plantation shutters are available in various materials such as wood, vinyl, and aluminium shutter frame and panels. Each material offers benefits and drawbacks:
Wood shutters give a classic appearance and warmth. They are known for a classic appearance and warmth. They may be more prone  to warping, cracking, and fading. Also a bit more maintenance is required to keep them looking crisp and clean.

Vinyl shutters are affordable and a low-maintenance option. You will find they may not offer the same level of customisation. They can appear less genuine than wood.

Aluminium shutters are more hard wearing and the recommended material for shutters. They can tolerate harsher weather conditions. They may not suit your desired style as they have a more industrial look.
Before  choosing black plantation shutters, always think about the materials durability  and required maintenance. Climate, exposure to sunlight, and the location of the shutters in your home will influence your choice.
One potential drawback of installing black plantation shutters are the costs. Plantation timber and aluminium shutters can be expensive.  The price of wooden shutters will vary depending on the material and finish. Plastic shutters are less expensive. If you're considering black plantation shutters for a number of windows in your home keep in mind  the costs can add up quickly. Remember to consider the installation costs in your budget.
Black plantation shutters will need maintenance and cleaning. Black shutters may show dust and dirt more readily than lighter coloured shutters. This means they may need to be cleaned more often to keep a spotless and perfect appearance.
Cleaning plantation shutters can be time consuming. Each individual slat needs to be cleaned to remove dust and dirt. This task can become more inconvenient with a larger number or size of windows. The black finish may need delicate handling to avoid scratching or damaging the surface.
In conclusion black plantation shutters can add a stylish and modern touch to your home, but be sure to weigh these factors before making shutters your final decision.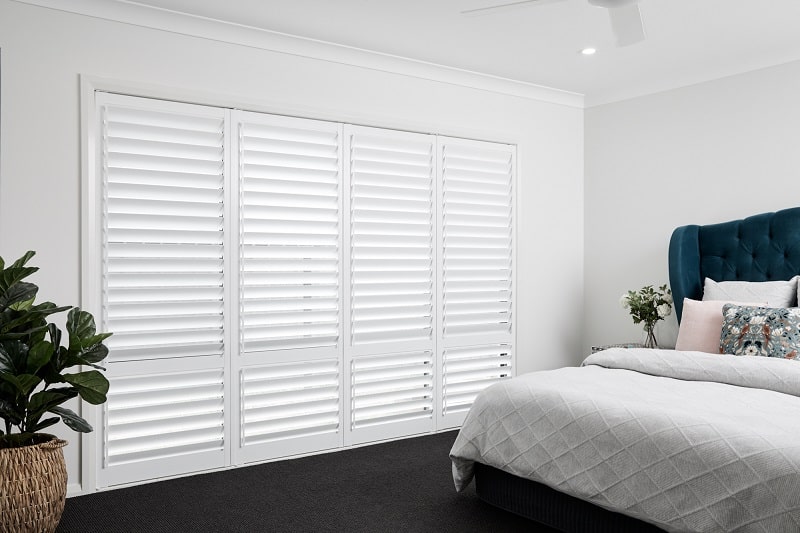 Which is Better: White or Black Plantation Shutters?
When it comes to choosing between white and black plantation shutters there are several factors to consider. The decision depends on personal taste, room style, and desired lighting effects.
White plantation shutters are a popular choice, They have timeless appeal and blend with most interior styles. They offer a clean, crisp look that can brighten up a room. White shutters can create a sense of spaciousness. They are also more energy-efficient, as they reflect sunlight and can keep the room cooler during hot months.
Black plantation shutters can make a dramatic statement in a room. They do bring  a sense of sophistication. They may be an ideal choice for spaces where a darker atmosphere is desired.  Remember black shutters absorb more sunlight. This may result in a room becoming warmer because of extra heat retention.
Add Australian Made Aluminium Plantation Shutters to Your Home & Save - Contact Classic Blinds & Shutter for a FREE Measure & Quote
Both white and black plantation shutters have their advantages and drawbacks. It depends on your specific needs, style preferences, and energy efficiency requirements. By considering these factors, you can choose the perfect plantation shutters that best suit your custom home and match your personal taste. 
Ready to take the next step in transforming your home? Contact the friendly and helpful staff at Classic Blinds and Shutters today.
More Classic Posts & Updates
We rely on curtains every day to make our lives more comfortable, but how do you choose curtains for your home? When choosing curtains for …
Do you want your window coverings to stay looking fresh and clean? Or are you looking for an easier way to clean plantation shutters? As …