Enjoy Your Outdoor Life With a Motorised Awning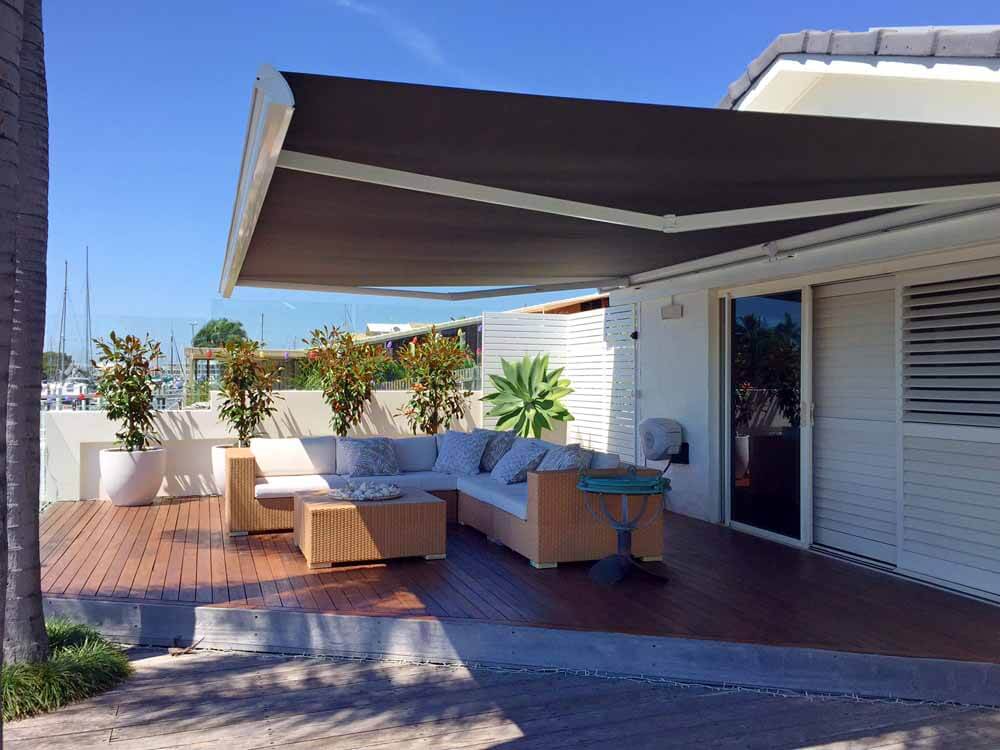 Update your outdoor living space with motorised awnings! Motorised outdoor awnings will automatically extend when the sun comes up and retracts when the wind starts to blow. 
As a result, they allow homeowners to create a comfortable porch or deck with the help of sensors or just a remote.
Here's why you should consider installing a motorised awning
How Do Motorised Awnings Work?

Unlike manual awnings that require you to crank a handle over and over again to wind it up or down, a motorised version makes life all the more easier.
A motorised patio awning will roll out from a tube that's mounted against a wall or a pole, depending on your outdoor aesthetics. 
All automatic awnings operate on a 120V electric motor that pushes the awning inward or outward based on your needs.
Some motorised awnings feature programmable settings that rely on a sun and wind sensor, to detect changes in the weather conditions. 
You can also use a remote or wall switch to open or retract the awning when the need arises.
Benefits Of Motorised Awnings

A motorised awning offers ease of use with the help of a remote control.
Electric awnings can provide more shade and reduce sun exposure, so homeowners can enjoy every aspect of their home. They extend your outdoors into a living space, allowing you to invite more people into a comfortable and safe setting.
Most motorised awnings feature fade-resistant fabrics that shield people and pets against harmful UV rays. Additionally, an awning retracts fully to protect itself in bad weather conditions.
Let's break down a few more benefits.
Super Easy Operation

With remote controls, motorised outdoor awnings give homeowners year round convenience. Such motorised controls make operation easy, extending and retracting the awning for your convenience. Additionally, when sitting outdoors, you can control the awning to meet your comfort and needs.
Wind and Rain Protection

Motorised awnings can be integrated with smart technology (sun, water, or wind sensors) to identify changing temperature conditions. For instance, installing sensors on cassette awnings to detect the sun's positioning and operate accordingly.
In short, different kinds of sensors can signal the awning to automatically retract during bad weather conditions like a hail storm or torrential rain. This is most useful when you're away from the house or forget to retract them.
When high winds blow, the awning will quickly retract and only open when the conditions are optimal. This is most essential for homeowners who've had their awning systems damaged severely by the wind or after a storm.
Note that the design of motorised awnings will vary from model to model. In general, such systems consist of metal and fabric that expands to cover people and pets on a porch or deck when conditions outside are unfavourable.
Reduced Sun Glare and Light

Motorised awnings that come with a sun sensor offer many benefits during hot summer months, like protecting your outdoor furniture against the blazing heat. Some may feature a folding arm to manipulate the amount of light you receive.
Besides reducing solar heat, motorised retractable awnings also help reduce glare by providing ample coverage and shade against the sun. This is most useful when you've invited guests outdoors to either dine or relax on the patio or deck.
For instance, installing a motorised folding arm awning made from water and fade resistant materials. Such a system can help you block up to 99% of harmful UV rays.
Looking to Upgrade Your Outdoor Living Space with Motorised Awnings? Contact Classic Blinds

Our experts at Classic Blinds & Shutters can design a motorised awning that best fits your home exteriors, helping you install one as per your outdoor space.
We also manufacture and sell custom made curtains, blinds, and locally crafted plantation shutters in Newcastle, NSW. We do offer the option to customise your outdoor window coverings, specific to your needs.
Whether you're looking for window shutters, patio blinds, or external motorised awnings, you're sure to find suitable outdoor shades within our product range.
Contact us now to learn more.
More Classic Posts & Updates
We rely on curtains every day to make our lives more comfortable, but how do you choose curtains for your home? When choosing curtains for …
Do you want your window coverings to stay looking fresh and clean? Or are you looking for an easier way to clean plantation shutters? As …