How Ziptrak Blinds Increase Privacy in Your Outdoor Area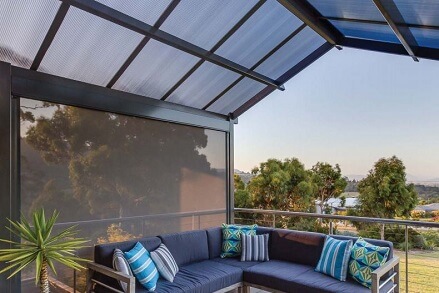 Take Your Outdoor Living Area To The Next Level with Ziptrak Blinds
It's no secret that Australians have an appreciation of the outdoor lifestyle and love to entertain, leading to an increasing number of homes with outdoor living spaces. However, privacy is a big concern when planning your outdoor area and Ziptrak® Blinds are the perfect solution for elevated style, sun protection and privacy.
Ziptrak Blinds Features

Ziptrak® Blinds is an Australian invented, owned and made multi-patented system that is safer, more durable and more functional in design. This track-guided system implements user-friendly design for simple and easy hand operation, gliding smoothly into place.  Ziptrak Blinds features include:
Height Adjustable:

you can

stop your blinds at any position along the track, simply let the blind go and it will stay at your desired height.

Patented Spring-Balanced System:

this patented spring system design feature carries most of the blind material's weight, ensuring the blind feels lightweight to the user and is easily adjusted. 

Locking Mechanisms:

the blinds can be locked when fully down, securing your blind in place. There is also a unique Centre Lock Release that allows the user to  unlock both the left and right locks simultaneously from the centre. 

No Crank Operation:

Crank blinds can be annoying to use and slow to adjust. With Ziptrak

 blinds, you won't need a crank stick to adjust your blinds, simply grab hold of the blind, then pull it down to lower it or push it up to retract it – simple and easy!

Up to 6m Wide:

the maximum measurements for these blinds is 6 meters wide and 3.5 meters tall. 

Family Friendly Design:

Our design also presents a safe environment for children and pets with no cords, crank handles, zips or external wiring.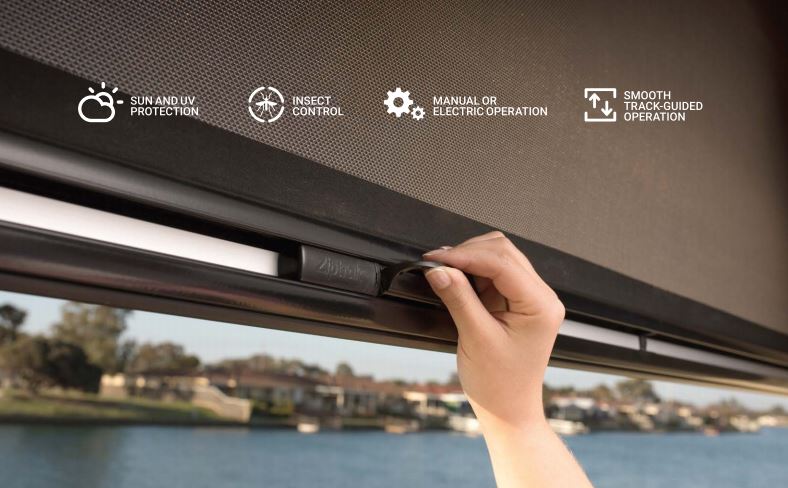 Installing Ziptrak Blinds

Installing Ziptrak® Blinds is a quick and easy process that involves minimal intrusion into your home. Blinds are custom made to order prior to the installation day, so the only work to happen on site is the installation of the blinds, including your chosen style of bracket or pelmet and the bottom bar weather protection option. A single blind can be installed in up to 2-3 hours, meaning you can have your blinds installed and start reaping the benefits of your Ziptrak Blinds within 24-48 hours. 
How Ziptrak Blinds Can Benefit You

Outdoor entertainment areas are becoming extremely popular, and with the addition of blinds, furnishings, and accessories, you can easily create a welcoming and relaxing outdoor space. Outdoor Ziptrak® Blinds can help you achieve this with a comprehensive range of high-quality outdoor blinds that can be hung in gardens, patios, balconies. Outdoor blinds offer multiple benefits, and here's a closer look at each one:
1. Enjoy Better Privacy
Classic Shutters and Blinds provide an exclusive range of outdoor blinds with block and darker shades for added privacy. Once we install your outdoor blinds, you can enjoy your private home sanctuary.
2. They Help Maximise Space
With city homes and commercial spaces becoming smaller, people crave outdoor spaces to unwind in. Outdoor Ziptrak Blinds are unobtrusive once installed and take up a minimal amount of space, allowing you to maintain the maximum amount of space in your outdoor area.
3. Entertain and Enjoy Regardless of Weather
Outdoor blinds can also keep you and your loved ones safe from winds, UV rays and rain. Weather elements need not play spoilsport when it comes to outdoor fun. You can continue to entertain your guests even when it gets too hot, cold, or wet. 
4. Protect Your Furnishings, Food and Drink from Bugs and Pests
There is nothing more annoying than having bugs and pests ruin your fun with family and friends. The Ziptrak blinds unique spline binding creates a gapless barrier on all sides of each blind, keeping out dust, wind, rain and insects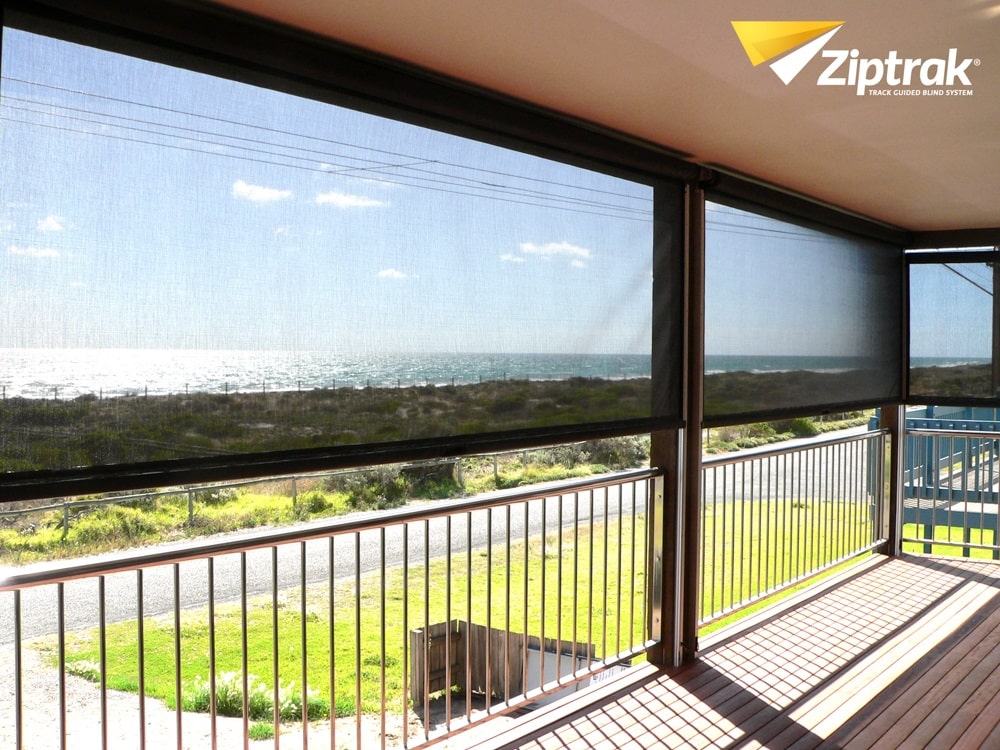 Classic Blinds & Shutters can customise the blinds to your specific needs. We have an extensive range of styles, colours, sizes and features to choose from. These track-guided systems allow for a no-gap installation that eliminates noise and damage from winds, and are completely safe for children and pets. We also offer Ziptrak® interior blinds that can increase energy efficiency and transform the inside of your home, office, cafe, restaurant, or other interior spaces. 
Our experts are ready to help you choose blinds that perfectly complement your home. For more information on outdoor blinds or to get a free quote, contact Classic Blinds & Shutters on 02 4940 8335 or email [email protected].
More Classic Posts & Updates
We rely on curtains every day to make our lives more comfortable, but how do you choose curtains for your home? When choosing curtains for …
Do you want your window coverings to stay looking fresh and clean? Or are you looking for an easier way to clean plantation shutters? As …