Best Blinds for Sliding Doors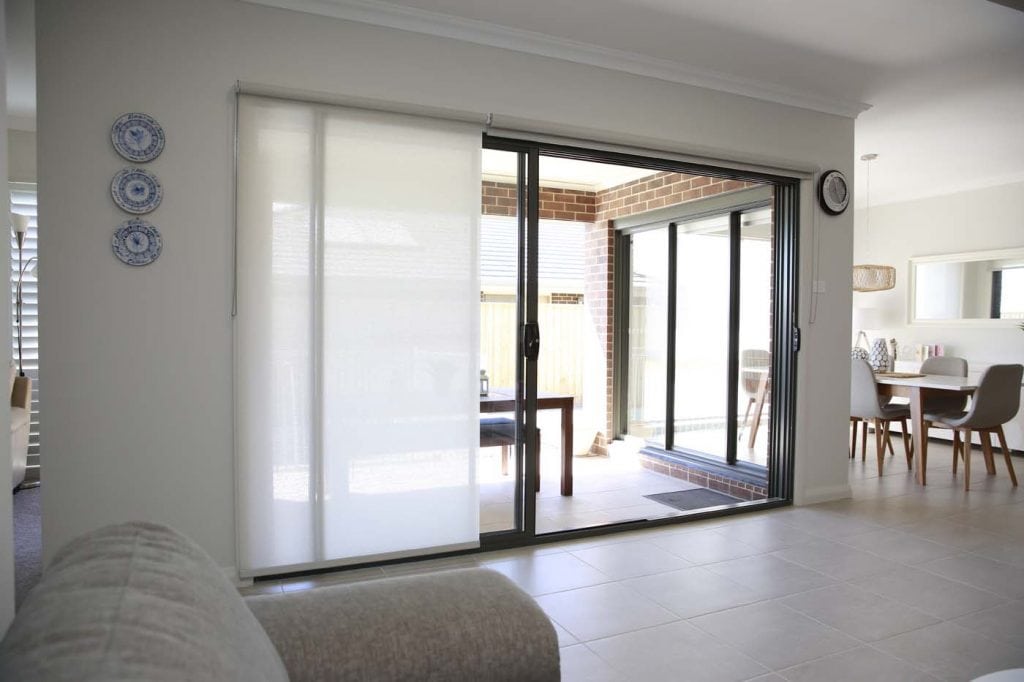 Need Help Choosing The Best Blinds for Sliding Doors?
Sliding doors are a common feature in many Australian homes. Combining the features of both window and door, they add a sense of beauty, functionality, and style to any space. They can also increase the appeal of the house itself and, in many cases, they help to bring the outdoors into the other rooms of the house and enhance the general ambiance.
If you're a homeowner looking to enhance the look, feel, and privacy of your home, you might be looking to find the best options to cover your sliding door panels.
Investing in the correct blind option and fabric for your sliding doors can mean saving on energy costs by improving insulation. It will also allow for direct adjustment over the amount of natural light that filters into the room as well as ensure long-lasting functionality from the blind.
There are different kinds of sliding doors used in Australian homes. Sliding glass doors are commonly used and are essentially very large windows, which make a great feature in the home but can mean the house can warm up very quickly. Being able to adjust how much light comes into the space from the strong summer afternoon sun can keep temperatures down. Many fabrics also help you retain your privacy, meaning that nosy neighbours and passers-by cannot see into your rooms.
Another kind of sliding door is sliding plantation shutters, which offer a little more privacy and regular airflow throughout the home. Sliding plantation shutters slide multiple panels into one fixed panel on the side of your door and have the same fantastic thermal qualities for insulating your home as regular plantation shutters. These are often used throughout the home, not just as external doors at the entrances or exits, and can elevate the look and feel of your home to a new level.
You might already have some ideas of how other window furnishings, such as custom curtains, might suit your glass sliding doors. However, if you haven't yet considered blinds, we've put together some of the common blind choices our customers might choose from to cover their sliding doors.
Questions To Ask Before Choosing Window Treatments for Your Sliding Doors

Before you jump ahead and order some new blinds, you might want to consider some of the main concerns and needs you are looking to meet when covering your sliding doors. For instance:
Are these sliding doors situated in a high-traffic area where your family or guests will frequently be walking in and out?

How often are the blinds going to be opened and closed on an average day?

Do you have a view you see through the sliding door that you are not wanting to block or obscure?

How much privacy and light filtering will you need from your blinds?

Is this a window that frequently gets hot and heats up the house?

Are the doors positioned in or close to potentially wet areas, such as being the nearest access point for a pool or spa?
In many cases, the answers to these questions will help to inform which blinds will be right for your sliding door. For instance, curtains and roman blinds with billowy fabrics are unsuitable for high-traffic areas. You can also opt for a variety of fabric types for roller blinds to suit your needs, from sunscreen fabric that allows the homeowner to maintain their view whilst protecting themselves and their belongings from harmful UV rays to blockout material that completely blocks sunlight and prying eyes from seeing into your home.
A blockout material is best suited for those looking to prevent any light from entering a room, as these blinds are made with thick material and reflective backing. While sunscreen fabric creates a light filtering blind with a moderate degree of transparency, meaning that you get to keep your view while still retaining some privacy and blocking out some light.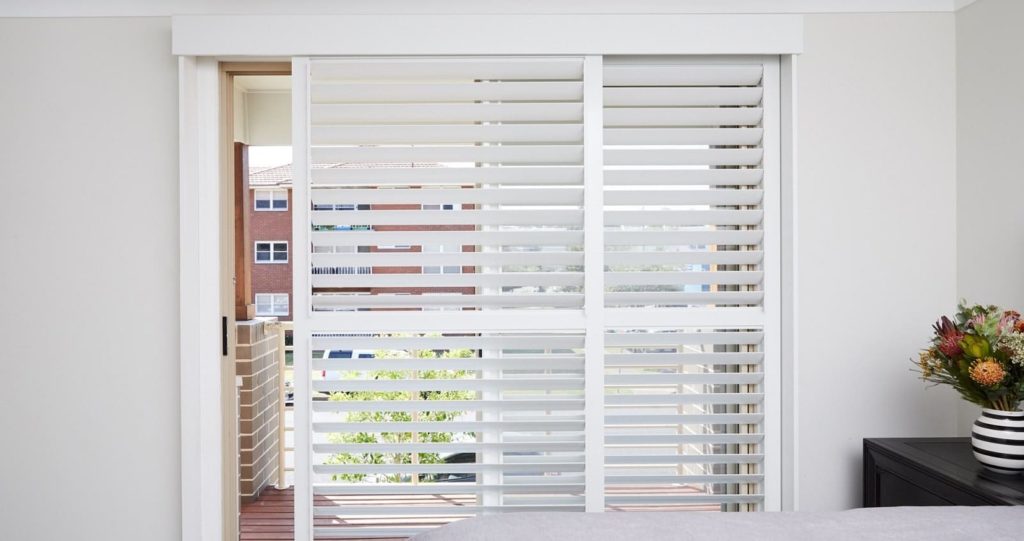 Roller Blinds for Sliding Doors

Roller blinds are a great choice for anyone looking to add reliable coverage to their sliding door. Versatile, functional, and available in a wide range of patterns and colors, roller blinds can be an ideal option for sliding doors. These blinds can also be ideal for covering large areas, or multiple doors, particularly in areas of high traffic.
Easily adjusted to any position at any frequency, roller blinds can be installed in sets of two that allow one to remain open and the other closed, meaning that people can walk in and out easily. Then, they can be closed whenever you want more light control or privacy, leaving only a minimal gap between the two.
Double Roller Blinds

Homeowners needing more versatility from their door blinds might want to consider double roller blinds. Consisting of two blind options that can be used alternately, these blinds allow you to combine the benefits of two different fabric types meaning the room has better light filtering, can deflect heat, and adjust privacy as needed.
One roller blind could be made in blockout fabric and the other a sunscreen or light filter roller blind, meaning you can get the control you need, whenever you need it.
Roman Blinds for Sliding Doors

Roman blinds are another popular choice for those looking to match their existing upscale décor. These blinds contribute a sophisticated, soft feel to a room and window frame, whether opened or closed.
Roman blinds can be made in a wide variety of great colours and patterns, meaning they can be easily matched to the surrounding wall and other rooms. Similar to a curtain, Roman blinds are mainly comprised of artistic folds of excess fabric. Therefore, they aren't usually recommended for high-traffic areas where they would need to be opened and closed regularly. The main concern here is weight and the potential for damage to the fabric as people brush against them. Instead, they are better suited to low or no traffic areas.
Vertical Blinds for Sliding Doors
Vertical blinds are one of the most versatile blind options for a sliding door. This is because the vertical blind configuration allows the homeowner to adjust the blinds to suit their needs by stacking the panels to the far left, right, or centre. While they do not completely block out sunlight, they can be adjusted to let light in or control privacy.
Vertical blinds are unique in their ability to mirror the operation of the sliding door itself, meaning they will never get in the way of your view. While some soft light will filter through the gaps in the vertical panels, they will still darken the room, control temperatures, and provide moderate insulation.
Venetian Blinds for Sliding Doors

A common choice for regular windows, venetian blinds are not usually recommended for sliding doors. This is because multiple panels add significant weight, making the blind difficult and awkward to regularly open and close.
If the rest of the home or room has already had this blind type installed and you are looking to match the installation on your sliding door, we recommend opting for two blinds and keeping one open during times of high traffic for the sake of convenience.

So, what are the best blind options for sliding glass doors?

Installing blinds for sliding doors is a simple way to control room temperatures, adjust light and allow for fresh air to circulate around the home without needing to keep the door open and lose your valuable privacy.
Window coverings that allow you to cover the entire door whilst retaining access include roller blinds, double roller blinds, and the vertical blind. The roller blind remains the most functional option, being available in blockout, sunscreen, and translucent fabrics for easy adjustment of soft light over large windows and sliding doors. But you needn't stop there. If they suit, you should look into honeycomb blinds, curtains, panel blinds or plantation shutters. Just make sure they fit your needs.
Our friendly team at Classic Blinds provide expert advice and stock a wide range of blinds in an assortment of colours. And not just blinds either! We also stock custom curtains and plantation shutters. When you want to revamp the look and feel of your home, look no further than Classic Blinds.
We pride ourselves on our premium customer service. Whether it be helping you pick the best choice for your home, to getting your blinds installed and after-sales service. For professional support in choosing new sliding door blinds for your home or business, book a free measure and quote or contact us today!
More Classic Posts & Updates
We rely on curtains every day to make our lives more comfortable, but how do you choose curtains for your home? When choosing curtains for …
Do you want your window coverings to stay looking fresh and clean? Or are you looking for an easier way to clean plantation shutters? As …