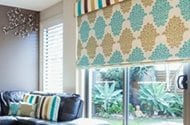 Roller Blinds using Drapery Fabric
Whilst there are some beautiful fabrics available for curtains, roller blind fabrics can often lack the pattern, texture and design of their window covering counterparts.
However, do not despair! Our Bonded Roller Blinds offer the perfect mix of clean lines with beautiful prints. Simply select a curtain fabric and bond (eg. glue) to a stiff roller blind fabric and hey presto, you can have the luxury of a curtain without the expense and bulk. Fabrics with the majority of the mix as cotton rather than polyester bond better. Windows that are smaller than the width of the fabric work well as it eliminates the need for joints. Most drapery fabric is around 140cm wide.
We have a range of fabric at our Showroom, but happy to arrange a bonded roller blind for a fabric you love. Alternatively, contact our Showroom and book an appointment with one of our sales consultants who will visit your home in the Newcastle, Lake Macquarie, Maitland, Hunter Valley or Port Stephens region.
You may also like
[related-posts-thumbnails]