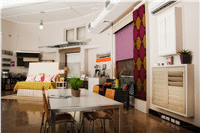 Building your Home – we can help!
Building your own home can be fraught with overwhelming decision making and unforeseen expense. Window coverings are a vital in making a home comfortable and as they are right at the end of build, homeowners often run out of budget to achieve the finish they want.
Many of our clients visit us at the beginning of the build with their house plans, we work with them to devise a scheme to give the right level of finish, fit with the budget and be ready to instal at sign off.
If you are building and have approved plans, visit our Showroom on Parry St, where we have large samples of Plantation Shutters, blinds, venetians, awnings and curtains for you to examine and research. We will put together as many options as you desire, our friendly knowledgeable staff will guide you with advice on design and function to deliver a result that will complement all the other decisions you have made.
We have toys to occupy the kids and will gladly make you a coffee, visit and be assured of a warm welcome.
For more advice, contact our Showroom and book an appointment with one of our sales consultants who will visit your home in the Newcastle, Lake Macquarie, Maitland, Hunter Valley or Port Stephens region.
You may also like
[related-posts-thumbnails]